Join us in the fight against puppy scams
Pawrade guarantees you with 100% certainty that you will NOT be scammed using our services.

Our service is based upon a fundamental belief that adding a puppy to your family should not come with risk along with many unknowns. While we cannot ask for your trust (just yet) we will earn it through transparency, communication and delivering upon promises.
---
---
Accepted Payment Methods
Pawrade ONLY accepts payment through PetPay.com. We will NEVER accept payment via cash, western money union, PayPal, Cash App and will never contact you through WhatsApp or similar anonymous services. PetPay.com accepts the following payment methods: Visa, Mastercard, American Express, Discover, Apple Pay, Google Pay and Bank Transfer.
Fighting Fraud
Online puppy scams are no match for us
We understand just how difficult it is to find a legitimate breeder, so we've put our experience and expertise to work for you.
Knowledge is Power
We understand there are many outlets available to find a puppy. Buying a puppy is oftentimes an emotional purchase. Scam artists who reside primarily in foreign countries such as the UK or Nigeria, prey on the emotions of puppy buyers with cute photos and videos of puppies that do not exist. Please give us a chance to serve you, your family and the pet breeding industry as a whole.
We do not expect you, an innocent puppy buyer to understand the complexities involved in thwarting these types of intricate scams. We have put our expertise to market as we sure understand how to eliminate all possible fraud.
It saddens us that scam artists have preyed on the emotions of innocent puppy buyers across the internet. Actually, it doesn't sadden us, it infuriates us! We launched our marketplace back in 2003 with the goal of bringing companionship and happiness to millions. Over that time, we have served hundreds of millions of puppy buyers. We developed very sophisticated systems to detect and thwart fraud from our marketplaces. No matter how many fraud deterrent systems we built or how many identity checkpoints we enabled, the battle or shall we say war, over protecting YOU our customer seemed like a never ending battle.
---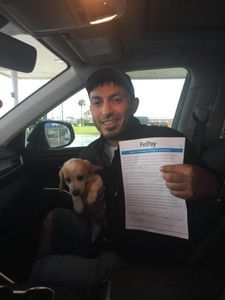 Jennifer S.
"I want to recognize Tania, from the beginning we were so worried of course about fraud because we had been searching for puppies on fb and internet and it just didn't seem right. She ensured us that everything was safe and communication was open. She kept us updated and I was never worried about not receiving lemon drop. I thank you for giving our family joy during this rough time with the pandemic."
Success! #Winning
We have declared victory over online puppy fraud or illegitimate breeding! We pioneered Pawrade.com along with PetPay.com to protect you and your family from countless scams. Our payment platform, PetPay.com, is the one and only payment processing and transaction management solution for the pet rehoming space. We are able to ensure you will not be scammed out of your hard earned money. We 100% guarantee it.
---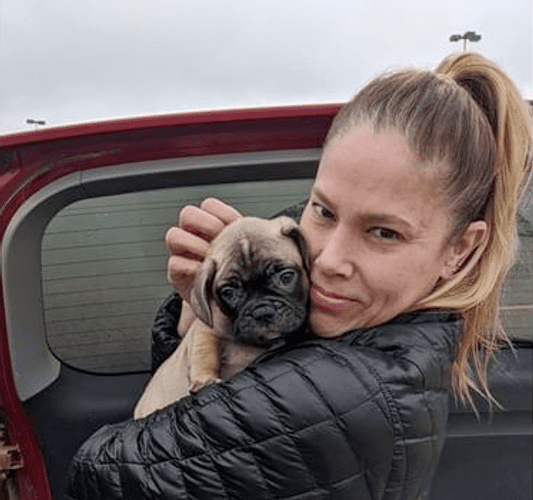 Stephanie M.
"Great experience using the site. No worries about fraud and the family I got Hoss from was great to work with and answered all my questions no matter how many I had. I would highly recommend Pawrade and this family!"
We offer alot of Guarantees!
When you purchase a puppy from Pawrade, we guarantee you will not be scammed! We guarantee you will receive your puppy! We track ALL communication. We handle the payment, fraud checks, identity verification and disbursement of funds. We handle the logistics of transportation in the event you cannot pickup the puppy locally. We ensure your puppy has an extensive head to tail examination before they are allowed to depart. We ensure your puppy's health guarantee is abided by. We work for you and your family to bring you companionship and happiness. We understand just how difficult it is to find a legitimate breeder. We've put our experience and expertise to work for you.
There are countless responsible breeders who work for the betterment of the breed for which are terrific sources for getting a new puppy.
Join Us for a Worry Free Puppy Buying Experience
Trust, transparency and communication are the fundamental aspects of our service. Please consider joining us in the fight against puppy scams. Buy a puppy securely through our service. We'll ask that you provide us with a review once your puppy is in your loving, caring arms. Please take a look at our real customer reviews.
---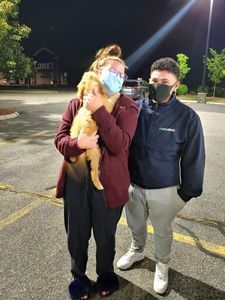 Yasmin M.
"Honestly, I am quite surprised with how seamless it was to get my pup through Pawrade. When I emailed support, they were quick and professional. When I get another puppy so my little guy can have a mate, I will definitely be using Pawrade."