Yorkshire Terrier - Yorkie Puppies for Sale
The Yorkshire Terrier (Yorkie) was originally a ratter in coal mines in England. The breed eventually became a popular lapdog for women in Europe. These pups are on the small side, growing 7 inches tall and 7 pounds big. They may be small but are quite tenacious, small protectors of your home!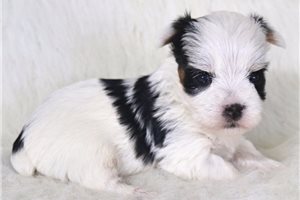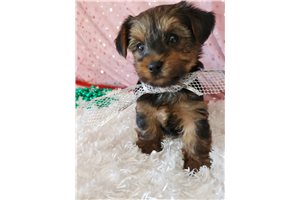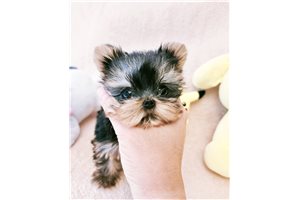 Teacup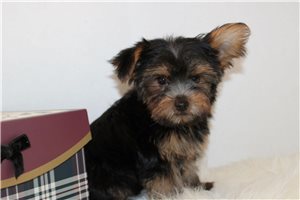 Health Guarantee

The health of your new puppy is our primary concern, read more about our Health Guarantee.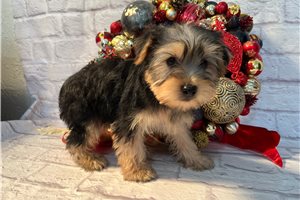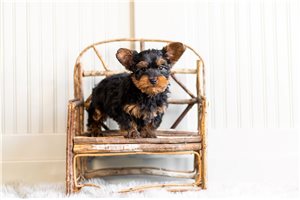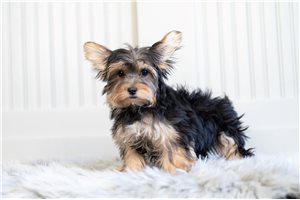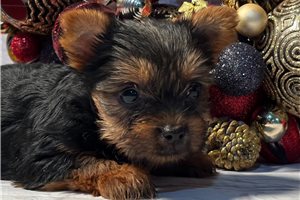 1-Month Included with every Puppy!*
Only with Pawrade, you receive a pet insurance policy with no waiting period included for immediate accident or illness coverage.
*NY, SC residents excluded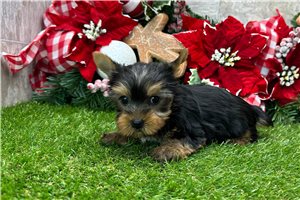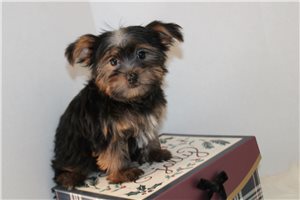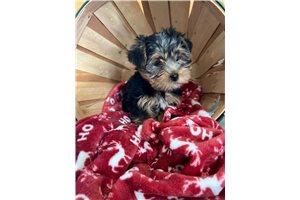 We love, love, love, love our new puppy and cannot thank you all enough. She loves to cuddle and is now the queen of the roost.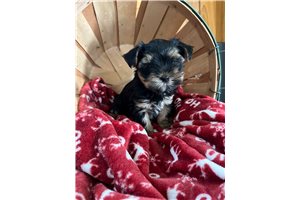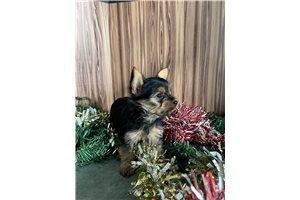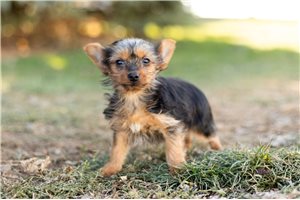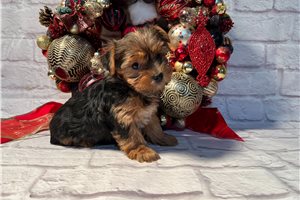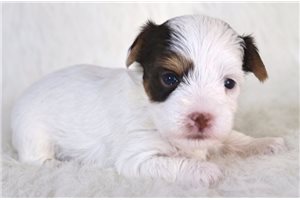 The Yorkshire Terrier (Yorkie) was originally a ratter in coal mines in England. The breed eventually became a popular lapdog for women in Europe. These pups are on the small side, growing 7 inches tall and 7 pounds big. They may be small but are quite tenacious, small protectors of your home!
Yorkshire Terrier Puppies for Sale: About the Breed
The Yorkshire Terrier, also affectionately known as Yorkie, is one of the smallest toy breeds known for their stunning long, silky coat and its feisty, smart personality. When you start asking where can I find a "Yorkshire Terrier puppy for sale near me?" you need to make sure it's the right breed for you. Here is everything you need to know about Yorkshire Terriers including their history, appearance, disposition, activity level, training, and cost.
History
Yorkshire Terrier puppies originate from Yorkshire in England. They were bred in the 19th century to catch rats in clothing mills and coal mines. Thanks to their small size, they became popular as working dogs. In over a century since their inception, they have gone from being working dogs to beloved family pets.
Characteristics
The Yorkshire Terrier is a small dog breed sporting a long, silky coat. The hair on the head is usually parted in the middle and allowed to hang down, covering the face. The Yorkie's coat is typically steel blue and tan, but it can also be blue and gold or blue and cream. The coat may also be brindle with a pattern of black and brown stripes. Some Yorkshire Terrier puppies for sale have a "parti" coat, meaning their bodies are one color and their heads are another. Parti-colored Yorkies are typically white with black or tan spots.
Regardless of coat color, all Yorkshire Terrier puppies require regular grooming to keep their coats healthy and free of tangles. The Yorkie's long hair is prone to matting, so daily brushing is essential. The breed's coat also needs to be trimmed every few weeks to keep it looking neat. While some owners do this, most prefer to leave it to a professional groomer. The Yorkshire Terrier's coat can be a beautiful asset with proper care, but owners must be willing to put in the time and effort required to maintain it.
Activity Level
Are you searching "Yorkshire Terrier puppies for sale near me"? If you Googled this term and ended up here, you already know how popular this pup is. They are small, energetic dogs that are full of spunk and personality. While they may be small, they are not lapdogs. They need plenty of exercise and stimulation to stay happy and healthy. A brisk daily walk is a good start, but they will also enjoy playing fetch or going for a run. Because of their high energy level, a Yorkshire Terrier puppy is best suited for homes with active families or owners who are willing to commit to providing them with enough exercise.
Disposition
If you purchase a Yorkshire Terrier for sale, be aware that they are a small but feisty breed of dog. Although they are often seen as lapdogs, Yorkies were originally bred for ratting and other forms of pest control. As a result, they tend to be very active and playful, even into old age. They are also very curious and can be quick to learn new tricks. Yorkie puppies are usually good with other animals and children, although they can be protective of their owners if they feel threatened. Overall, the Yorkshire Terrier is a lively and affectionate breed that makes a great companion.
Training
As any dog owner knows, training is essential for a well-behaved pet. But not all breeds are equally easy to train. Before searching for "Yorkshire Terriers near me," it's important to know they are known for their independent streak and stubbornness. However, with patience and perseverance, even the most headstrong Yorkie can be trained to obey commands and walk politely on a leash. The key is to start early, be consistent, and use positive reinforcement. Puppies have short attention spans, so sessions should be short and sweet. Once your Yorkie has mastered the basics, you can begin teaching more advanced tricks like sitting up or rolling over. With time and patience, even the most stubborn Yorkshire Terriers can be trained to be a well-behaved companion.
Cost
While the cost of a Yorkshire Terrier for sale may vary depending on factors such as breeder experience and location, a price of a Yorkie puppy for sale can start at $2,150 and increase from there. This puts the Yorkshire Terrier solidly in the middle range regarding dog breeds, making them a reasonably affordable option for many families.
Of course, the cost of ownership doesn't end when you bring home your new puppy. This range can vary depending on the bloodline, AKC registration, and other factors. In addition to the initial purchase price, owners can spend around $50 per month on food and supplies and any additional veterinarian care costs. A Yorkshire Terrier puppy for sale can live for 12-15 years, making them a low-maintenance breed over their lifetime. If you're searching "Yorkshire Terrier puppies for sale near me", this breed is an excellent choice for those looking for a small dog with lots of personality.
Why Pawrade?
Finding a reputable breeder has never been easier
Pawrade is dedicated to connecting loving families with a dog that needs a home. Using Pawrade to browse for a Yorkshire Terrier - Yorkie for sale is a reliable way to ensure that you get a dog from a reputable breeder.
Our focus is on the health of the dog and ethical, sustainable breeding practices. We ensure that the breeders on our platform are genuine, so you have peace of mind in knowing that you are receiving exactly what you expect.
If you've always dreamed of owning this type of dog, choose Pawrade for your Yorkshire Terrier - Yorkie for sale and begin a new chapter in your life today!
Stop searching for "Yorkshire Terrier - Yorkie puppies near me" – you've come to the right place! We understand just how difficult it is to find a legitimate breeder, so we've put our experience and expertise to work for you.
Customers Love Us!
Discover what real customers have to say about Pawrade!
The puppy is fantastic, the delivery team accommodated me and the entire family has fallen in love with her.
The whole experience with Pawrade was awesome!.
Whenever I had a question I got a response within 24 hours. Every question, worry and fear was addressed as I thought About it and reached out for an answer. I got Phone calls, emails and texts and appreciated all of them. I will definitely be getting my next dog when I'm ready through them again
We had an excellent experience getting our puppy thru Pawrade. They put us in contact with the breeder who answered all our questions. We were able to video chat with them to see our new puppy. The paperwork was easy and we got numerous updates until our puppy arrived. I would use this company again.
Great company, did everything they said they would and we have a beautiful beagle now!!! Thank you again