Our Motto:
Live a little, laugh a little, love a lot.
As pet owners ourselves, we do everything it takes to make the process of purchasing a puppy with Pawrade a safe, enjoyable and healthy experience for the puppy and the client. Get to know a little more about our outstanding team of pet enthusiasts, working hard each day to provide a pawsome experience to each one of our customers.
---
Carli
Carli Rivera
Customer Concierge
"Always kill them with kindness."
Pet: Mother of a cat named TigerLily (Tigy) and auntie of two dogs, Chance & Africa
Role: Doing her top favorite things; talk & better yet, talk about puppies all day!
Hobbies: Binge-watch series, thrifting, car-aoke master, and keeping succulents alive
Fun Facts:
Spends more time planning than enjoying
Taught a cat to sit…and that's it
She multi-tasks even when she thinks she's not
Strengths:
Always the Group Mom
Big ol' heart
Shopping for Deals
Weaknesses:
Very emotional
Sushi
Anything and everything Disney
Jaclyn
Jaclyn Williams
Customer Concierge
"Unless someone like you cares a whole awful lot, nothing is going to get better. It's not."
Pet: Groot - Corgi, Cash - Corgi, Pooty - Toy Poodle, Soloman - Mainecoon
Role: Helping make the process of bringing your furbaby home an easy process
Hobbies: Anything crafting, farming, family, online shopping and rescuing horses
Fun Facts:
Cannot resist not bringing home anything with 4 legs and furry
Loves DIYing
Cannot buy anything unless it's on sale
Strengths:
Love everyone
Animal person
Finding a good deal
Weaknesses:
Online shopping
Anything furry
Coffee
Rachelle
Rachelle Ryan
Puppy Concierge
Pet: Remi - Mini Aussie, Bubba - Cavalier, Spectre - Ryman English Setter, Airborne - Brittney Spaniel, 2 cows - Finnegan & Angus
Role: Helping others find their fur babies and making their families complete.
Hobbies: Loves animals, being outside and working in her gardens and tending to her flowers. She love crafts, being creative and thinks Pinterest is sooo fun!
Fun Facts:
Loves to bake and her cookie record is 40 different cookies at Christmas.
She has over 100 different bottles of spices. She had a special cabinet built to hold all her spices
She makes homemade ice cream & sorbets
Strengths:
Hard Worker
Team Player
Positive Thinker
Aurora
Aurora Moss
Content Copywriter
"Attract what you expect, Reflect what you desire, Become what you respect, Mirror what you admire."
Pet: Bo - American Bulldog
Role: Reviews, revises and approves listings to make sure they are grammatically correct. She also spends a lot of time telling herself, "No Aurora, we do not need another puppy yet!"
Hobbies: Making candles during her spare time, rocking the "bummy mom look" at all time.
Fun Facts:
She has a 2yr old son that thinks he is a dinosaur and will roar at you with pride
Watches more basketball than she would like to admit
Gets to enjoy traveling to different states, but it's due to basketball tournaments that she doesn't usually enjoy
Strengths:
Being her fiancé's favorite headache
Written communication
Her playlist
Weaknesses:
Her son (he gets whatever he wants)
Pajamas
Pawrade puppies
Mary
Mary Artes
Breeder Relations
"Life is golden with a doodle"
Pet: Stella - Micro Mini Goldendoodle
Role: Helps breeders find loving and fur-ever homes for their babies.
Hobbies: Loves to travel. Next up is the Virgin Islands. Mom taxi to her two teenagers.
Fun Facts:
She has an identical twin sister and yes they can read each other's minds
Loves the anticipation of a good snow storm
One of those crazy Christmas lovers that has decorations up on November 1st
Strengths:
Organized
Good listener
Never loses a game of Scrabble
Weaknesses:
Pumpkin obsessed
Carb junkie
Watching too much reality TV
Dan
Dan Keener
Puppy Concierge
Dan the Man
"I will just get one more dog"
Pet: 3 Dogs: Cali, Pepper & Millie
Role: Talk about cute puppies all day
Hobbies: Talking about puppies, cuddling with puppies going for a walk with puppies, anything puppies
Fun Facts:
He's jumped out of a plane
Loves to travel
Loves doing anything outdoors
Strengths:
Talking about puppies
Pretending to workout
Listening
Michelle
Michelle Sands-Kortie
Puppy Concierge
"God is good. So is life!"
Pet: Maisley, Paisley, Atlas and Athena - Calico kitties
Role: Gets to look at and talk about sweet pups all day!! A day in the life of a Pawrade sales rep...
Hobbies: Loving Jesus, Being a mom, Singing/rapping, Making memories with her people, Crystals and candle making, Adulting, Procrastinating, Football/Tetris/concerts/festivals/beach/river/mountains/road trips/bonfires
Fun Facts:
She owns a crystal shop: The Exotic Stoner
She can recite the alphabet backwards, from memory, in 2.7 seconds
99% of her wardrobe is black
Strengths:
Joking her way through awkwardness
Listening and relating
Rapping Eminem songs
Weaknesses:
Door Dash
Crystals
Cotton Candy Sunsets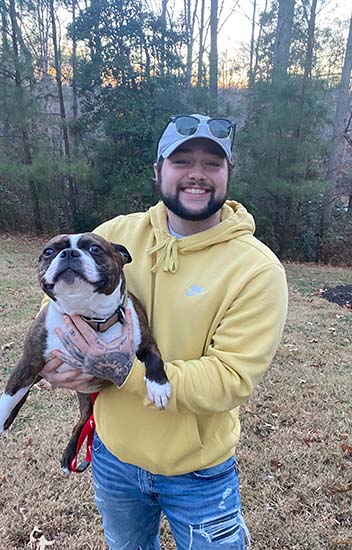 Aaron
Aaron Wood
Customer Concierge
"You done messed up ay ayron"
Pet: Gunner - Boston Terrier, Gage - Boston Terrier
Role: Helping families find new furever pups!
Hobbies: Fishing, sightseeing, binge watching everything on Netflix
Fun Facts:
Has a son named Cobin
Can't stand any type of mess
Everyone says he looks like Post Malone
Strengths:
Hardworking
Online shopping
People watching at the bar
Weaknesses:
Cold weather
Spiders
Sleeping with the fan on
Jade
Jade Warner
Customer Concierge
"Loud" Puppy Whisperer
Pet: Sasha and Jefe - XL Bully
Role: To whisper to the puppies....obviously
Hobbies: Morning #momlife #momof6 #somehuman #allanimals
Fun Facts:
Dollar Tree is the way to her heart
Loves long walks at the puppy park
Loves to talk....even if she has to use her fingers
Strengths:
Mom ears
Mom mouth
Mom brain
Weaknesses:
Mom brain
Mom mouth
Puppies
Morgan
Morgan Elliott
Travel Liaison
"No worries"
Pet: Bailey - Labrador Retriever, Piper - Shih Tzu, Abe - Doberman Pincher
Role: She gets the puppies from the breeder to their forever homes
Hobbies: Working out, shopping, being a taxi for her kids
Fun Facts:
If she could she would have wayyyy more dogs
She may or may not love dogs more than humans
She has the ability to tune out her children and still hear the tv, phone, or another person simultaneously
Strengths:
Humor
Talking to people
Still being able to sleep after 45 cups of coffee a day
Weaknesses:
Saying no to her children
Saying no to her dogs
Amazon prime
You've met us! We can't wait to meet you!
We are always here for you! Always! We work very hard for you and your family to bring you companionship and happiness for a lifetime!
Contact Us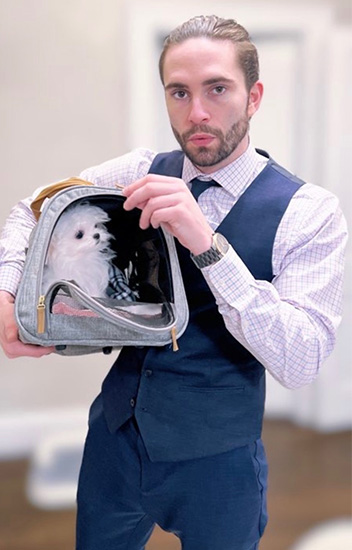 Peter
Peter Corso
Customer Experience Lead
Sweet Pete
Pet: Mochi
Role: He is here to "fetch" all the information you need before adopting your perfect pup
Hobbies: Anything sports, traveling, hiking and eating dessert before dinner
Fun Facts:
As a toddler, he would use markers to play Connect-the-Dots on his Dalmatian
Born and raised near Detroit, Michigan
If he could have any super power, it would be to shape-shift
Strengths:
Strategy board games like Chess and Scrabble
Parallel parking
Karaoke
Weaknesses:
Sleeping in
Can't dunk a basketball
Watching too much Seinfeld
Devlyn
Devlyn Ray
Breeder Liaison Manager
"It was not the thorn bending to the honeysuckles, but the honeysuckles embracing the thorn."
Pet: Fitzgerald - Olde English Sheepdog
Role: He works with our awesome team of breeder liaisons to help them locate and foster lasting relationships with our ever-expanding network of quality breeders!
Hobbies: Playing with Fitz and doing hoodrat things with his homies.
Fun Facts:
Hates for his food to touch
Ambidextrous
Swears he invented the phrase "friends with benefits" but no one believes him
Strengths:
Talking
Listening
Talking about listening
Weaknesses:
Brevity
Monogamy
That first moment when you come home from Happy Hour and you and your puppy lock eyes and you can tell that they genuinely missed you
Regina
Regina Diaddigo
Puppy Concierge
"The greatness of a nation and its moral progress can be judged by the way its animals are treated" - Gandhi
Pet: Hulk - Olde English Bulldog
Role: To dig up the most positively perfect puppy for each human!
Hobbies: Drinking coffee, cooking food her family doesn't want to eat, yoga, sending her friends memes rather than calling them
Fun Facts:
Vegan - has been for nine years
Coaches gymnastics
Really wants a donkey, goat, pig or a cow…but her husband won't let her
Strengths:
Ignoring housework
Online shopping and finding all the deals
Teaching kids to read! She taught both of her children to read (homeschooled for a while) and, for 4 years, taught children in China to speak English!
Weaknesses:
Dark Chocolate
Mimosas
Chin-ups
Tony
Tony Stray
Puppy Concierge
Dog Whisperer
Pet: Chico - Chihuahua, Cabo and Greycee - Kittens
Role: Helps people find their new family member
Hobbies: Working out, hiking, really anything outdoors, foodie, loves hard rock and metal music
Fun Facts:
Hiked to the tallest point in the contiguous U.S.
Once flew into a tropical storm (landing just before the airport closed) to go to a music festival
Likes dogs more than most people
Strengths:
Procrastinating
Ordering takeout
Binge-watching Netflix
Weaknesses:
Procrastinating
Online shopping
Disneyland
Eddie
Eddie Rush
Puppy Concierge
"No worries"
Pet: Daisy - Yellow Lab, Simba - Cat
Role: Here to help find a puppy for anyone who is interested.
Hobbies: Likes to be outside, go to the beach, play sports, work out
Fun Facts:
Volleyball is his new favorite sport to play
Strengths:
Listening
Being responsible
Devin
Devin Capriola
Puppy Concierge
"Life is Short, it's up to you to make it Sweet"
Pet: Max - Cavachon
Role: She's here to make sure you find a true friend in life. She believes there is no friendship like the friendship you will have with your dog.
Hobbies: Cooking, painting, Netflix, listening to loud music, fitness enthusiast, Target shopper, snuggling her dog, nature lover, travel, coffee fanatic
Fun Facts:
Owns way to many coffee cups
Every house plant she buys dies
Loves to laugh at her own jokes even when others don't find them funny
Owns way to many pairs of sunglasses
Strengths:
Fast walker
Always wins a dance battle
Super fast texter
Weaknesses:
Spends way to much money at Target
Hair products
Buying dog toys
Elizabeth
Elizabeth Weems
Director of Breeder Relations
"Wherever you go, no matter what the weather is, always bring your own sunshine."
Pet: Piper - ShihPoo
Role: Helping breeders find loving homes for their furbabies
Hobbies: Raising tiny humans, hanging with friends, becoming obsessed with Peleton, junk food junkie, celery juicing, and Netflix'ing
Fun Facts:
Terrified of bridges
She has her own litter...of kids :)
Found her long lost sister on Facebook, and now she works for Pawrade!
Strengths:
Snooze buttons
Mad house cleaner and organizer
Pro at Home Chef
Weaknesses:
Smells... Post offices, Home Depots, Gasoline, Redi Markers
Sweatshirts
Chocolate...well anything sweet
Reagean
Reagean Simmons
Travel Concierge
"Today is not the day!"
Pet: Smokey & Sadie - Australian Cattle Dogs, Jumbo - Toy Fox Terrier, Foxy - Paso Fino/Fox Trotter Cross, Ellie - Bashkir Curly (the poodle of horses), Betty - Fox Trotter, Stella - Fox Trotter/Tennessee Walking Horse Cross
Role: She gets the puppies from the breeder to their forever homes.
Hobbies: Riding Horses with her mom and kids, watching her kids compete in rodeos/showdeos and spending hours in a tack shop
Fun Facts:
Autism mom
Rodeo mom
Heavy metal music mom
Strengths:
Hitting the snooze button
Finding shiny tack for her horses
Cooking
Weaknesses:
Anything shiny
Late everywhere she goes
Telling kids no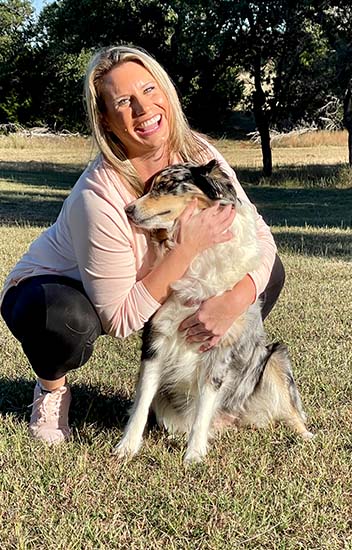 Janell
Janell Hester
Puppy Concierge
"Be the person your dog thinks you are"
Pet: Sir Braxxton de Pig 'Em Bottoms - English Bulldog
Role: Puppy Princess - making dreams come true with puppy love
Hobbies:
Fun Facts:
Easily distracted by a shiny object
Really loves anything pink
Collects Curious George everything
Strengths:
Napping
Constantly being confused
Loving puppies
Weaknesses:
Louis Vuitton
Pink Sparkly anything
Reese's peanut butter cups
Lois-Ann
Lois-Ann Krahling
Customer Concierge
Crazy Grandma
"Live like the gate's been left open"
Pet: ll Grand Dogs Porter, Katie, Buddy, Talley, Another Buddy, Brusky, & Grand Cats Pancakes, Waffles, LOA (Little Orphan Annie) Simba
Role: Working closely with the buyers and breeders to create an extraordinary experience for the buyer of their fur-ever Friend!
Hobbies: People, loves people and loves spending time with her children and grandkids. Loves being outdoors in the sun, walking, riding bikes
Fun Facts:
Strengths:
Dancing
Loving everyone she meets
Killing with kindness
Weaknesses:
Christmas decorating
Spoiling her grandbabies
Never being able to say no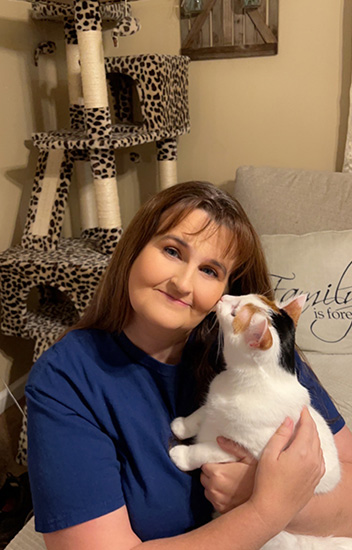 Tina
Tina Bailey
Customer Concierge
"Real G's move in silence like lasagna"
Pet: Waylon & Mario - Snowshoe Kitten, Phoenix - Calico Kitten
Role: She's a cat lady that helps people find their new puppy
Hobbies: TikTok enthusiast, pinning recipes and DIYs on Pinterest that she will never do, dancing in her kitchen
Fun Facts:
Collects Farmhouse decor, doesn't own a Farmhouse
Buys some sort of bag whenever she is at the store for no apparent reason
Owns an island on Animal Crossing
Strengths:
Song lyrics
Matching socks
Running on little to no sleep
Weaknesses:
Cruises
Online shopping
Her granddaughter
Beth
Beth Thomas
Breeder Relations
"Remember, today is the tomorrow you worried about yesterday"
Pet: Harlee - Cockapoo, Cooper - Mini Goldendoodle
Role: Helps breeders find loving and fur-ever homes for their babies.
Hobbies: Raising her kids and fur babies, going to the beach, social butterfly, shopping, riding her Peloton
Fun Facts:
Momma bear raising 4 kids and 2 pups
Survived a horrific golf cart accident
Born and raised and still lives in Maryland
Strengths:
Relaxing beach side
Works well with others
Pays attention to details
Weaknesses:
Retail Therapy AKA Shopping
Indecisive
Pizza
Maria
Maria Angel
Puppy Concierge Admin
"Love never fails"
Pet: Luna
Role: Helps the sales team reconnect with old clients who are still interested in their forever fur friend.
Hobbies: Fashion, tennis, cooking and travel
Fun Facts:
Lived in 3 different countries
Love is her passion
Nutrition is her mantra
Strengths:
Great at cooking
Good listener
Great sense of fashion
Paul
Paul Reamy
Assistant Sales Manager
Pet: Cooper - Cavapoo
Role: Helping people and families find their next perfect dog
Hobbies: Watching football, people-watching and cocktails
Fun Facts:
He loves binging on Netflix
Can't stand the cold
Strengths:
Hitting snooze
Playing golf
Shotguns 🍺
Tara
Tara Mir
Puppy Concierge
"Wubba Lubba Dub Dub!"
Pet: Norman - Normetrius or Fat Boy, Millie - Ms. Wigglita or Milson
Role: Helping you experience the complete and immense joy of having a doggo in your life – Live. Love. WOOF!
Hobbies: Taking endless pictures of her puppers (no time is a bad time for a picture), playing video games 90% of the time, aspiring plant mom - currently, her giant elephant ear is thriving! Others....not as much
Fun Facts:
She found Millie through Pawrade! Best decision she ever made :)
Huge Harry Potter nerd. Honestly, ask her anything
Speaking of being a nerd, she's a mega gamer and good at it. She has an Xbox, PS5 & Nintendo Switch
Speaking of nerd...She also has a vast collection of lego sets
Strengths:
Her endless & eternal love for her puppies
Master Pokemon trainer
Saved the galaxy on numerous occasions. No big deal.
Weaknesses:
Sweets, desserts, junk food in general
The overwhelming desire to buy every dog toy in sight
The inability to decide what she wants for dinner
Cindy
Cindy Walter
Travel Concierge
"I took care of it, Harry", "She is clothed in strength and dignity and laughs without fear of the future."
Pet: Hippie Chic - Paint Quarter horse, Ollie, Axel, Drover, Dude - Quarter horse, Kora - Hangin Tree Cow dog, Spur - McNab Cow dog, Jax, Jetta, Tudders-Queensland heelers
Role: There is nothing better than to see eyes light up when a new puppy arrives. She wants to help make dreams a reality by helping find the perfect new fur family member.
Hobbies: Living life to the fullest, riding horses, and spending time with loved ones
Fun Facts:
Once bought 17 adult Great Danes at one time! GO BIG OR GO HOME!! (Rehomed to better homes)
Quote all the silly movies (Dumb and Dumber, Kingpin, Austin powers…..)
Once died whale watching (Not really but the Whale and her calf did go directly under their 21' boat) awesome but terrifying!
Strengths:
Hard-working. Kind of a workaholic...
Kind
Loyal
Weaknesses:
Sweets, all chunky girls love sweets!
Horses and dogs
Can't say NO!!
Colette
Colette Turner
Content Copywriter
"Sometimes you will never know the value of a moment until it becomes a memory."
Pet: Katie - Lab/Pit mix, Buddy - Lab/Pit mix
Role: Making puppy profiles so customers can fall in love with the personality of the dog they are seeing on the screen.
Hobbies: Starting home remodel projects knowing her hubby will have to finish them, collecting coffee mugs, and pinning recipes that her family will never eat.
Fun Facts:
LOVES going to haunted houses, won't sleep for the next 24 hours after going
Will talk to your dog before talking to you
Loves to buy plants, does NOT have a green thumb
Strengths:
Drinking coffee
Hitting the snooze button
Buying toys for her kids
Weaknesses:
Halloween decorations
Coffee mugs
Buying toys for her kids
Melissa
Melissa Jackson
Breeder Liaison
Missy
Pet: Unalii - Coonhound, Bama - Coonhound mix, Honey - Cat, Mufasa - Cat, Camille - Cat, Neigh-Neigh - Tennessee Walking Horse, Maize - Tennessee Walking Horse, Breakaway - Quarter Horse, Donk Donk - Donkey, 4 Turkeys, 25 Chickens, Daisy - Rat, Spot - Rat
Role: She helps breeders find their way to us, to sell their sweet puppies
Hobbies: Gardening, horse back riding, bee farming
Fun Facts:
She is a bee farmer
Enjoys holistic medicine
She is a a licensed veterinary technician with 20+ years experience
Strengths:
Organized
Multi-tasker
Veterinary medicine background
Brenden
Brenden Salta
Co-Founder
"Whether you think you can, or you think you can't - you're right!"
Pet: Thea - French Bulldog
Role: Creative problem solver and visionary of the most simplest crosswalk and traffic light systems
Hobbies: Boating, traveling, exercising and overly researching anything and everything
Fun Facts:
Can sing most songs until the music stops
Once wore socks with sandals
Prefers to be the complete opposite of normal
Strengths:
Self deprecating jokes
Meyers-Briggs ENTP to a T
Not boring
Weaknesses:
Relentless determination
Heights
Math
Emma
Emma Pierce
Customer Concierge
"They say life is short.... So why not buy a dog?"
Pet: Luna - Saint Bernard, Gracie - Golden Retriever
Role: Helping one family at a time finding their forever fur baby.
Hobbies: Eating, playing with dogs, drinking coffee, shopping and being outside any time of the year
Fun Facts:
Hates driving
Loves to dance in the living room with no one home
Has more pictures of her dogs than her family
Strengths:
Making new friends
Multitasking
Organized
Weaknesses:
Having to pet every dog she sees
Online shopping
Cows
Renee
Renee Reamy
Assistant Operations Manager
"Do a job you love and you will never work a day in your life!"
Pet: Zeus - PlottHound/Lab Mix, Athena - Aussiedoodle
Role: Supervising employees during day-to-day tasks to ensure productivity, onboarding new employees, managing the overall workflow and spreading positivity to our Pawrade family!
Hobbies: Online shopping, watching my kids play their sports and reading
Fun Facts:
Mom of 5 - "I am not like a regular mom, I'm a cool mom"
Once was a flight nanny for one of our buyers/breeders!
Used to run a middle school with 800 students, they are pretty similar to 800 puppies
Strengths:
Good listener
Great Communicator
Multitasking queen
Weaknesses:
Online shopping
Firefighters
Anything that requires physical activity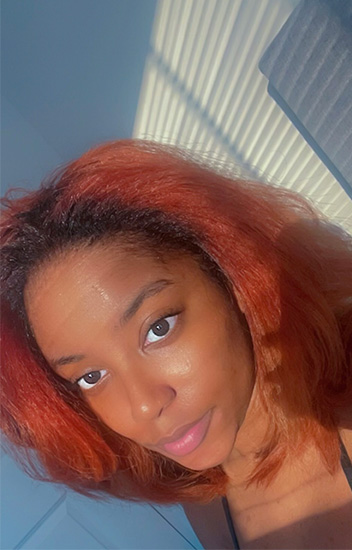 Destiny
Destiny Freeman
Customer Concierge
Pipsqueak
Pet: Pluto - German Shepherd/Mastiff
Role: Creating happy families four paws at a time
Hobbies: Mario Kart, Animal Crossing, any Lego game you can think of, Anime, Steven Universe expert, Amateur Perfumer (probably the only adult thing she does)
Fun Facts:
She bond with her dog over blankets & Brooklyn Nine-Nine
Strengths:
TikTok
Hair Dye
Vine References
Weaknesses:
Amazon
Targets that have a Starbucks inside
Dogs
Jillian
Jillian Royalty
Breeder Relations
Cat Person
Pet: Roxy - Egyptian Mau
Role: Works under breeder relations for breeder support
Hobbies: Being with her cat, state hopping, playing piano
Fun Facts:
Biggest Garbage Pail Kid collection in the south
Can't stay in the same state for more than a month
Owns over 200 pairs of socks
Strengths:
Conversation
Impulsive Decisions
Good handwriting
Brian
Brian Salta
Co-Founder
"The weather outside is weather"
Pet: Roi - English Bulldog
Role: Not writing copy
Hobbies: Wearing Under Armour, spotting celebrities in the airport and Costco shopping
Fun Facts:
Loves "ice cold IPA's and college football"
Has mastered driving with his knees
A former Olympian once called him "buff"
Strengths:
Forgetting Sarah Marshall quotes
Happy hour
Frequent flyer miles
Weaknesses:
Pasta
Stock trading
Dancing
Tania
Tania Moss
Program Director
"Mom of the group", "If you got a problem, yo I'll solve it. Check out the hook while my DJ revolves it."
Pet: Prince - Papillion, Jables - Pit Bull Mix, Toby - Toy Poodle and Lacie - Golden Retriever
Role: Vanilla Ice lyrics coordinator, "Ice Ice Baby"
Hobbies: Baking, cooking, cake decorating and loves being creative on her free time
Fun Facts:
She's the lost sister :)
Her grandma was a breeder and she helped her with her kennel
Makes cakes in her spare time. The fancy one's you see on TV
Strengths:
Compassionate and caring for the love of dogs
Problem solver
Kenneth
Kenneth Thomas
Puppy Concierge
Kenny AKA "The Bulldog Dad"
"I'm on the Clooney Plan.", "You can't change the waves, but you can learn how to surf."
Pet: Louie (RIP) - English Bulldog, Otis - English Bulldog, Buster (Family Dog) - Blue Nose Pit Bull Terrier
Role: He is like Will Smith in the movie Hitch, but for puppies. Bulldog aficionado that wants to bless everyone with the life changing experience of giving a Bulldog (or any other breed of fur baby haha) a fur-ever home.
Hobbies: Watching movies/shows/UFC, writing/recording/mixing/mastering music, snowboarding, and….napping
Fun Facts:
He won Class Clown
Kenny's here, what are your other 2 wishes?
Weaknesses:
Amazon prime
Bulldogs
Brunettes
Renee
Renee Smith
Breeder Relations
"Never say die" - Goonies
Pet: Elsa - Cattle Dog Shorthaired Pointer Mix
Role: She is the new kid on the block, going step by step! The pups are always on her mind!
Hobbies: Sun catcher, Elsa follower, flower lover, bird watcher, car singer, book reader
Fun Facts:
Loves flowers but can't keep them alive
Owns 23 blankets
Goes to Target when she says she is going to the grocery store
Strengths:
90's trivia expert
Can hear a mandrake and survive
Doing different European accents at any given time
Weaknesses:
All things Christmas
Anything soft and fuzzy
Coffee mugs
Lucy
Lucy Hughes
Content Copywriter
"Mama tried!"
Pet: Bowie - Golden Retriever
Role: She writes doggy dating profiles to match puppies with their furever humans
Hobbies: Fiber artist, Irish dancing aficionado, nature photography, kayaking
Fun Facts:
Always makes friends with random people out in public
Owns way too many art supplies
Loves to macro photograph dead bugs, snakes, and toads
Strengths:
Pampering her Golden, Bowie
Making cool quilts
Navigating in the wilderness
Weaknesses:
Sushi
Comfy pants
Craft IPAs and Sours
Kelli
Kelli Dean
Customer Relations Manager
"The better I get to know men, the more I find myself loving dogs." Charles de Gaulle
Pet: Cooper - Cavapoo, Leo - Cane Corso, Piper - Border Collie, Cardi P - Pig, Olaf - Cat
Role: Builds and maintains strong, long-term, and beneficial relationships with customers and breeders.
Hobbies: Spending time with her kids, she has 4. Wait! Do moms get hobbies? Loves boating, hiking, being outdoors, spending time together
Fun Facts:
Can lay down a pretty mean freestyle rap
Had more photoshoots with Coop than with her kids
ALWAYS beating her toddler at Rock, Paper, Scissors
Strengths:
Amazon shopping after happy hour, ask her why she owns a snowblower in the South
Her kids say, "Best Mom Ever." She thinks they are just getting ready to ask for something
Good listener, loves to learn about people
Weaknesses:
Anything Halloween or Christmas, a hopeless over-decorator
Trash-picking - loves refurbishing old furniture
Craft stores, never met one she didn't like
Charlie
Charlie Elliott
Resolutions Manager
"Bro..."
Pet: Grant - Shih Tzu
Role: He coordinates with vendors/breeders/customers to resolve all account issues.
Hobbies: Classic vehicles, motorcycles, fighting with my kids :)
Fun Facts:
He loves old abandoned stuff
Video games bore him
80's music nerd
Strengths:
Can fix anything
Can break anything
Super dependable
Weaknesses:
Classic vehicles
Amazon
Waterfront bars
Joey
Joey Walsh
Health Guarantee Claims Manager
"It is what it is!", "Don't tell me the sky is the limit when there are footprints on the moon!"
Pet: D.O.G. - Boxer Mix, Sheba - German Shepherd
Role: Making sure your puppy's Health Guarantee claims are handled adequately and in a timely manner!
Hobbies: Detective, trail riding, poker runs
Fun Facts:
People watcher
80's hip hop
Southern charm
Strengths:
Thinks he can fix it all
Charm
Laidback
Weaknesses:
Porters/Stouts
Christmas
Espresso
Kelly
Kelly Wicoff
Puppy Concierge
Momma K
Pet: Maxx - Rat Terrier
Role: Since dog is man's best friend, she helps people find their best friend.
Hobbies: She loves spending time with her family, hiking, gardening, painting with Bob Ross, and singing
Fun Facts:
She loves long boring history documentaries
Addicted to YouTube
She is an HSP and has Spidey Senses
Strengths:
Empathic
Funny
Nature lover
Weaknesses:
Pizza
Chocolate
Rat Terriers!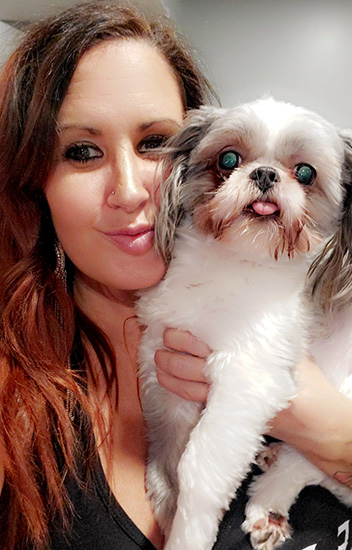 Jen
Jen Elliott
Operations Manager
"When life gives you Monday, dip it in glitter and sparkle all day long!"
Pet: Grant - Shih Tzu
Role: Problem solver. Ensuring smooth and efficient daily operations. Assisting breeder relations with all aspects of tasks, concerns and motivation.
Hobbies: ID Channel watcher, home decor, shopping and sugar skull collector!
Fun Facts:
Loves sweatpants
Snorts when she laughs really hard
Wanted to be a cop when she grew up
Strengths:
Knowing song lyrics like a boss
Sleeping
Honesty
Weaknesses:
Sugar skull anything - she wants them all
Getting tattoos
Wine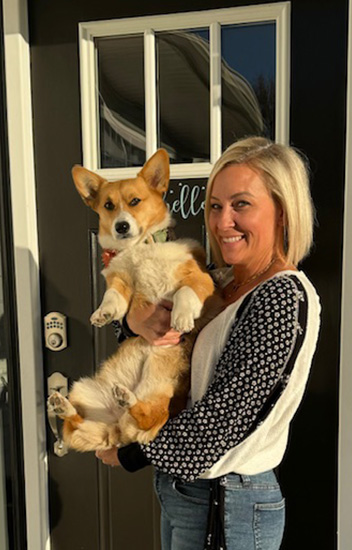 Shannon
Shannon Gegor
Travel Manager
"For effs sakes", "This too shall pass"
Pet: Dolly Parton - Corgi, Waylon - Bernese Mountain Dog, Vaga - Bearded Dragon
Role: Gets puppies home safe into their new owners arms
Hobbies: Drinking and exercising
Fun Facts:
Knows the words to every 80s/90s song out there
Once owned a cat named Brad Pittens
Her husband likes Burt Reynolds more than her most days
Strengths:
Organizing
Time management
More organizing
Weaknesses:
Buying gym clothes
Saying no to her kids
Back handsprings
Kristen
Kristen Russell
Breeder Relations
"Just Keep Swimming." - Dory
Pet: Scooter - the Boxer that can and will eat everything in sight, Downy - the feather dusting grey tabby
Role: Directing breeders in their search to find their pups a new home
Hobbies: Video games that she plays with her kiddo and his furry friends, jamming out to music anytime and anywhere
Fun Facts:
Will laugh so hard at her own jokes, that she can barely get the words out of her mouth
Can morphe into a rockstar when she's in the car on a roadtrip
Would own all the cats, if she could
Strengths:
Educated in veterinary technologies
Can always find a silver-lining
Wants the best for everyone
Weaknesses:
Scottish-fold cats
Apologizing way too much
Saying no to her mini-me
Kelly
Kelly Hall
Customer Concierge
"I wish my wallet came with free refills!"
Pet: Tank - Husky, Major - Great Dane, Rip - Pomsky
Role: Just here to chat about puppies all day long!
Hobbies: Retail Therapy professional, Peloton lover, hanging with Friends, raising tiny humans and managing her own zoo!
Fun Facts:
Wax melt and candle obsessed
Loves all things music
Dislikes going to the grocery store
Strengths:
Talking
Shopping
Hard working
Weaknesses:
Spending money
Pumpkin anything
Halloween
Courtney
Courtney Dean
Social Engagement Director
Crazy dog lady
"Kill em with kindness", "seriously", "The only way to do great work is to love what you do." –Steve Jobs
Pet: Evie - Pug, Lincoln - King Charles Cavalier
Role: The Anti-Social Distancing Police, responsible for the exact opposite of social distancing - Online style. Throws the wildest of wild Online paw parade parties.
Hobbies: Growing things, anything creative and foodie
Fun Facts:
The American Girl Doll "Courtney 1986" made her life complete
Extreme fear of rafts and praying mantis
Snackaholic
Strengths:
Doesn't have an off switch
Never gets tired
Not exercising
Weaknesses:
Diet Coke
Saying "no"
Gluten
Pugs
Pam
Pam Tarshis
Puppy Concierge
"No big whoop"
Pet: Angel - Cat
Role: Makes dreams come true by uniting humans with their beloved fur babies. Love and happiness abounds!
Hobbies: Stargazing, yoga, hiking, road trips and snacking
Fun Facts:
Takes moonlit walks late at night with her cat in tow.
In denial of needing to bump up the strength of her readers.
She sleeps with a teddy bear, shhh…she's into oversharing.
Strengths:
Friendship
Gift giving
Luxuriating
Weaknesses:
Audiobooks
Hilarious memes
Snackies
Donna
Donna Conner
Puppy Concierge
"A positive mind finds opportunities in everything and a negative mind finds fault in everything."
Pet: Beau - Yellow Lab, Bella - Yorkie
Role: Want a puppy? She'll make it happen!!!
Hobbies: Soaking up the sun, cleaning, breakfast dates, and spending time with her kids (including the furry ones)
Fun Facts:
Buys a TON of books, and never reads them
She has never met a stranger
Loves traveling
Strengths:
Cleaning
Helping others
Time Management
Weaknesses:
Resisting a good deal
Chips, dip, and a Diet Coke
Following through with a book, lol
Lindsey
Lindsey Phillips
Customer Concierge
"What's one more??"
Pet: Larry/Ellie/Sherman - Chihuahuas, Junior/Elton/Paul/Prudence - Pitbulls
Role: Helping buyers get ready for their new puppy!
Hobbies: Tik Tok, shopping, playing piano
Fun Facts:
Hates to drive
Obsessed with Walmart delivery
She can say the alphabet backwards
Strengths:
Organized
Watching Netflix
Sleeping in
Weaknesses:
Dogs! (She has 7!)
Online shopping
Chocolate Peanut Butter Ice Cream
Sandra
Sandra Turner
Breeder Relations
"Imperfection is beauty, madness is genius and it's better to be absolutely ridiculous than absolutely boring." ― Marilyn Monroe
Pet: Pancakes - Siamese Cat, Porter - Border Collie/Chow mix
Role: Helping breeders find loving and fur-ever homes for their babies
Hobbies: Taking Walks, spending time with family and friends, being outdoors, and taking pictures
Fun Facts:
Has an obsession with baskets and jars
Can change her own brakes
Loves all adventures
Strengths:
Tech savvy
Independent
Creative
Weaknesses:
All animals
Anything halloween
Coffee