Our Motto:
Live a little, laugh a little, love a lot.
As pet owners ourselves, we do everything it takes to make the process of purchasing a puppy with Pawrade a safe, enjoyable and healthy experience for the puppy and the client. Get to know a little more about our outstanding team of pet enthusiasts, working hard each day to provide a pawsome experience to each one of our customers.
---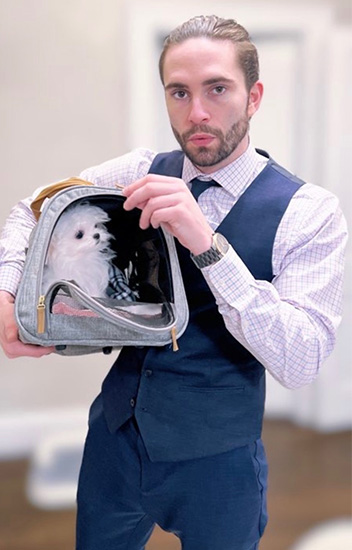 Peter
Peter Corso
Puppy Concierge
Sweet Pete
Pet: Mochi
Role: He is here to "fetch" all the information you need before adopting your perfect pup
Hobbies: Anything sports, traveling, hiking and eating dessert before dinner
Fun Facts:
As a toddler, he would use markers to play Connect-the-Dots on his Dalmatian
Born and raised near Detroit, Michigan
If he could have any super power, it would be to shape-shift
Strengths:
Strategy board games like Chess and Scrabble
Parallel parking
Karaoke
Weaknesses:
Sleeping in
Can't dunk a basketball
Watching too much Seinfeld
Shannon
Shannon Boulais
Customer Concierge Supervisor
"Easily satisfied with the very best"
Pet: Ruger - Golden Retriever
Role: If it's not sales or transportation, she's your girl!
Hobbies: Starbucks drinker, beach layer, family and friend lover
Fun Facts:
Still confuses her left from her right
She is a Washington Football team Hogette (wear's the pig nose proudly)
At Target once a week unnecessarily
Strengths:
Resilient
Organized
Determined
Weaknesses:
Figuring out her own strengths
Overly critical of herself
Kitchen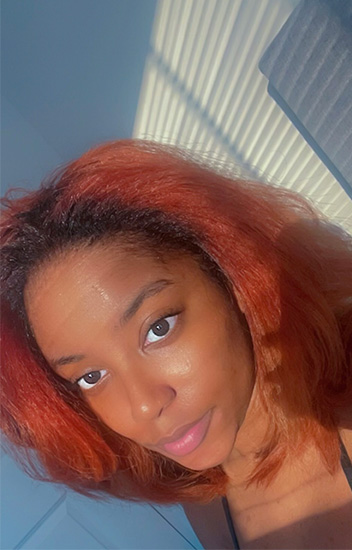 Destiny
Destiny Freeman
Customer Concierge
Pipsqueak
Pet: Pluto - German Shepherd/Mastiff
Role: Creating happy families four paws at a time
Hobbies: Mario Kart, Animal Crossing, any Lego game you can think of, Anime, Steven Universe expert, Amateur Perfumer (probably the only adult thing she does)
Fun Facts:
She bond with her dog over blankets & Brooklyn Nine-Nine
Strengths:
TikTok
Hair Dye
Vine References
Weaknesses:
Amazon
Targets that have a Starbucks inside
Dogs
Paul
Paul Reamy
Assistant Sales Manager
Pet: Cooper - Cavapoo
Role: Helping people and families find their next perfect dog
Hobbies: Watching football, people-watching and cocktails
Fun Facts:
He loves binging on Netflix
Can't stand the cold
Strengths:
Hitting snooze
Playing golf
Shotguns 🍺
Dan
Dan Keener
Puppy Concierge
Dan the Man
"I will just get one more dog"
Pet: 3 Dogs: Cali, Pepper & Millie
Role: Talk about cute puppies all day
Hobbies: Talking about puppies, cuddling with puppies going for a walk with puppies, anything puppies
Fun Facts:
He's jumped out of a plane
Loves to travel
Loves doing anything outdoors
Strengths:
Talking about puppies
Pretending to workout
Listening
Tara
Tara Mir
Puppy Concierge
"Wubba Lubba Dub Dub!"
Pet: Norman (aka Normetrius or Fat Boy) and Millie (aka Ms. Wigglita or Milson)
Role: Helping you experience the complete and immense joy of having a doggo in your life – Live. Love. WOOF!
Hobbies: Taking endless pictures of her puppers (no time is a bad time for a picture), playing video games 90% of the time, aspiring plant mom - currently, her giant elephant ear is thriving! Others....not as much
Fun Facts:
She found Millie through Pawrade! Best decision she ever made :)
Huge Harry Potter nerd. Honestly, ask her anything
Speaking of being a nerd, she's a mega gamer and good at it. She has an Xbox, PS5 & Nintendo Switch
Did she say she was a nerd? She also have a very vast collection of lego sets
Strengths:
Her endless & eternal love for her puppies
Master Pokemon trainer
Saved the galaxy on numerous occasions. No big deal.
Weaknesses:
Sweets, desserts, junk food in general
The overwhelming desire to buy every dog toy in sight
The inability to decide what she wants for dinner
Elizabeth
Elizabeth Weems
Director of Breeder Relations
"Wherever you go, no matter what the weather is, always bring your own sunshine."
Pet: Piper - ShihPoo
Role: Helping breeders find loving homes for their furbabies
Hobbies: Raising tiny humans, hanging with friends, becoming obsessed with Peleton, junk food junkie, celery juicing, and Netflix'ing
Fun Facts:
Terrified of bridges
She has her own litter...of kids :)
Found her long lost sister on Facebook, and now she works for Pawrade!
Strengths:
Snooze buttons
Mad house cleaner and organizer
Pro at Home Chef
Weaknesses:
Smells... Post offices, Home Depots, Gasoline, Redi Markers
Sweatshirts
Chocolate...well anything sweet
Melissa
Melissa Jackson
Breeder Liaison
Missy
Pet: Unalii - Coonhound, Bama - Coonhound mix, Honey - Cat, Mufasa - Cat, Camille - Cat, Neigh-Neigh - Tennessee Walking Horse, Maize - Tennessee Walking Horse, Breakaway - Quarter Horse, Donk Donk - Donkey, 4 Turkeys, 25 Chickens, Daisy - Rat, Spot - Rat
Role: She helps breeders find their way to us, to sell their sweet puppies
Hobbies: Gardening, horse back riding, bee farming
Fun Facts:
She is a bee farmer
Enjoys holistic medicine
She is a a licensed veterinary technician with 20+ years experience
Strengths:
Organized
Multi-tasker
Veterinary medicine background
Lindsey
Lindsey Phillips
Customer Concierge
"What's one more??"
Pet: Larry/Ellie/Sherman - Chihuahuas, Junior/Elton/Paul/Prudence - Pitbulls
Role: Helping buyers get ready for their new puppy!
Hobbies: Tik Tok, shopping, playing piano
Fun Facts:
Hates to drive
Obsessed with Walmart delivery
She can say the alphabet backwards
Strengths:
Organized
Watching Netflix
Sleeping in
Weaknesses:
Dogs! (She has 7!)
Online shopping
Chocolate Peanut Butter Ice Cream
Jillian
Jillian Royalty
Breeder Relations
Cat Person
Pet: Roxy - Egyptian Mau
Role: Works under breeder relations for breeder support
Hobbies: Being with her cat, state hopping, playing piano
Fun Facts:
Biggest Garbage Pail Kid collection in the south
Can't stay in the same state for more than a month
Owns over 200 pairs of socks
Strengths:
Conversation
Impulsive Decisions
Good handwriting
You've met us! We can't wait to meet you!
We are always here for you! Always! We work very hard for you and your family to bring you companionship and happiness for a lifetime!
Contact Us
Tania
Tania Moss
Program Director
"Mom of the group", "If you got a problem, yo I'll solve it. Check out the hook while my DJ revolves it."
Pet: Prince - Papillion, Jables - Pit Bull Mix, Toby - Toy Poodle and Lacie - Golden Retriever
Role: Vanilla Ice lyrics coordinator, "Ice Ice Baby"
Hobbies: Baking, cooking, cake decorating and loves being creative on her free time
Fun Facts:
She's the lost sister :)
Her grandma was a breeder and she helped her with her kennel
Makes cakes in her spare time. The fancy one's you see on TV
Strengths:
Compassionate and caring for the love of dogs
Problem solver
Sylvia
Sylvia Donovan
Breeder Relations
"It's so nice to talk to you!"
Pet: Oreo - kitty-cat
Role: Introduce breeders to our program and become their go to for any and all puppy listing needs
Hobbies: Paddle boarding, hiking, watching FC Barcelona, concerts, visiting the kitty cafe, young adult cancer advocate and date nights
Fun Facts:
Met her spouse of 16 years over the phone as his sales rep for soccer uniform
Willingly goes on roller coaster just to make her kids happy
Can figure out what to make for dinner at the last second - and it's always a crowd pleaser
Strengths:
Optimism
Movie trivia
Warm hugs
Weaknesses:
Trader Joe's
Greeting cards
House plants
Hot chai tea
Lois-Ann
Lois-Ann Krahling
Customer Concierge
Crazy Grandma
"Live like the gate's been left open"
Pet: ll Grand Dogs Porter, Katie, Buddy, Talley, Another Buddy, Brusky, & Grand Cats Pancakes, Waffles, LOA (Little Orphan Annie) Simba
Role: Working closely with the buyers and breeders to create an extraordinary experience for the buyer of their fur-ever Friend!
Hobbies: People, loves people and loves spending time with her children and grandkids. Loves being outdoors in the sun, walking, riding bikes
Fun Facts:
Strengths:
Dancing
Loving everyone she meets
Killing with kindness
Weaknesses:
Christmas decorating
Spoiling her grandbabies
Never being able to say no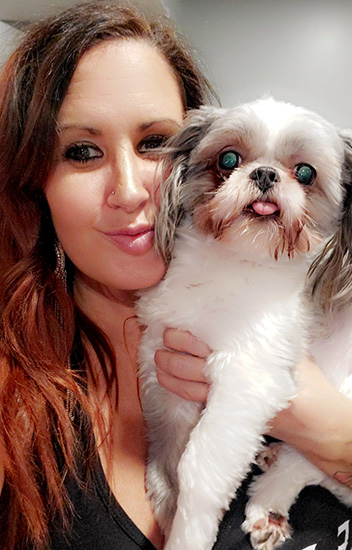 Jen
Jen Elliott
Operations Manager
"When life gives you Monday, dip it in glitter and sparkle all day long!"
Pet: Grant - Shih Tzu
Role: Problem solver. Ensuring smooth and efficient daily operations. Assisting breeder relations with all aspects of tasks, concerns and motivation.
Hobbies: ID Channel watcher, home decor, shopping and sugar skull collector!
Fun Facts:
Loves sweatpants
Snorts when she laughs really hard
Wanted to be a cop when she grew up
Strengths:
Knowing song lyrics like a boss
Sleeping
Honesty
Weaknesses:
Sugar skull anything - she wants them all
Getting tattoos
Wine
Joey
Joey Walsh
Health Guarantee Claims Manager
"It is what it is!", "Don't tell me the sky is the limit when there are footprints on the moon!"
Pet: D.O.G. - Boxer Mix, Sheba - German Shepherd
Role: Making sure your puppy's Health Guarantee claims are handled adequately and in a timely manner!
Hobbies: Detective, trail riding, poker runs
Fun Facts:
People watcher
80's hip hop
Southern charm
Strengths:
Thinks he can fix it all
Charm
Laidback
Weaknesses:
Porters/Stouts
Christmas
Espresso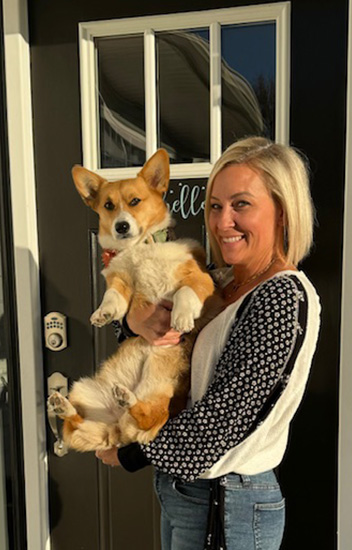 Shannon
Shannon Gegor
Travel Manager
"For effs sakes", "This too shall pass"
Pet: Dolly Parton - Corgi, Waylon - Bernese Mountain Dog, Vaga - Bearded Dragon
Role: Gets puppies home safe into their new owners arms
Hobbies: Drinking and exercising
Fun Facts:
Knows the words to every 80s/90s song out there
Once owned a cat named Brad Pittens
Her husband likes Burt Reynolds more than her most days
Strengths:
Organizing
Time management
More organizing
Weaknesses:
Buying gym clothes
Saying no to her kids
Back handsprings
Cindy
Cindy Walter
Customer Concierge
"I took care of it, Harry", "She is clothed in strength and dignity and laughs without fear of the future."
Pet: Hippie Chic - Paint Quarter horse, Ollie, Axel, Drover, Dude - Quarter horse, Kora - Hangin Tree Cow dog, Spur - McNab Cow dog, Jax, Jetta, Tudders-Queensland heelers
Role: There is nothing better than to see eyes light up when a new puppy arrives. He wants to help make dreams a reality by helping find the perfect new fur family member.
Hobbies: Living life to the fullest, riding horses, and spending time with loved ones
Fun Facts:
Once bought 17 adult Great Danes at one time! GO BIG OR GO HOME!! (Rehomed to better homes than what they were in previously)
Quote all the silly movies (Dumb and Dumber, Kingpin, Austin powers…..)
Once died whale watching (Not really but the Whale and her calf did go directly under their 21' boat) awesome but terrifying!
Strengths:
Hard-working. Kind of a workaholic...
Kind
Loyal
Weaknesses:
Sweets, all chunky girls love sweets!
Horses and dogs
Can't say NO!!
Renee
Renee Reamy
Travel Concierge
"Do a job you love and you will never work a day in your life!"
Pet: Zeus - PlottHound/Lab Mix, Athena - Aussiedoodle
Role: Navigates a complex system so you don't have to. Researches and books transport, pulls together the proper documents, coordinates with the breeders and carriers and helps get new puppies to their furever home
Hobbies: Online shopping, watching my kids play their sports and reading
Fun Facts:
Mom of 5 - "I am not like a regular mom, I'm a cool mom"
Once was a flight nanny for one of our buyers/breeders!
Used to run a middle school with 800 students, they are pretty similar to 800 puppies
Strengths:
Good listener
Great Communicator
Multitasking queen
Weaknesses:
Online shopping
Firefighters
Anything that requires physical activity
Charlie
Charlie Elliott
Assistant Operations Manager
"Bro..."
Pet: Grant - Shih Tzu
Role: Coordinates with breeders and customers to get puppies to their new furever homes as safely and efficiently as possible
Hobbies: Classic vehicles, motorcycles, fighting with my kids :)
Fun Facts:
He loves old abandoned stuff
Video games bore him
80's music nerd
Strengths:
Can fix anything
Can break anything
Super dependable
Weaknesses:
Classic vehicles
Amazon
Waterfront bars
Jade
Jade Warner
Customer Concierge
"Loud" Puppy Whisperer
Pet: Sasha and Jefe - XL Bully
Role: To whisper to the puppies....obviously
Hobbies: Morning #momlife #momof6 #somehuman #allanimals
Fun Facts:
Dollar Tree is the way to her heart
Loves long walks at the puppy park
Loves to talk....even if she has to use her fingers
Strengths:
Mom ears
Mom mouth
Mom brain
Weaknesses:
Mom brain
Mom mouth
Puppies
Alisa
Alisa Bible
Puppy Concierge
Lis
Pet: 2 dogs! Clutch and Angel
Role: Gets to help people adopt the perfect puppy for their families!
Hobbies: Online shopping, hanging out with her dogs, hanging out with her friends and their dogs, and spending time in nature
Fun Facts:
Absolutely loves makeup and can't resist buying it
Constantly changing her hair color
Can't go to Target without spending at least $100, but always forgetting to buy the items she went there for
Strengths:
Making drinks
Dropping everything she picks up
Hitting curbs
Weaknesses:
All animals especially puppies
Anything holiday-themed
Tattoo shops
Lucy
Lucy Hughes
Content Copywriter
Mama tried!
Pet: Bowie - Golden Retriever
Role: She writes doggy dating profiles to match puppies with their furever humans
Hobbies: Fiber artist, Irish dancing aficionado, nature photography, kayaking
Fun Facts:
Always makes friends with random people out in public
Owns way too many art supplies
Loves to macro photograph dead bugs, snakes, and toads
Strengths:
Pampering her Golden, Bowie
Making cool quilts
Navigating in the wilderness
Weaknesses:
Sushi
Comfy pants
Craft IPAs and Sours
Devlyn
Devlyn Ray
Sales Manager
"It was not the thorn bending to the honeysuckles, but the honeysuckles embracing the thorn."
Pet: Fitzgerald - Olde English Sheepdog
Role: He assists the Sales Manager...unless he's off and then he's the Sales Manager...but only in regards to the responsibilities. He would feel terrible if he stole his actual job on his one day off!
Hobbies: Playing with Fitz and doing hoodrat things with his homies.
Fun Facts:
Hates for his food to touch
Ambidextrous
Swears he invented the phrase "friends with benefits" but no one believes him
Strengths:
Talking
Listening
Talking about listening
Weaknesses:
Brevity
Monogamy
That first moment when you come home from Happy Hour and you and your puppy lock eyes and you can tell that they genuinely missed you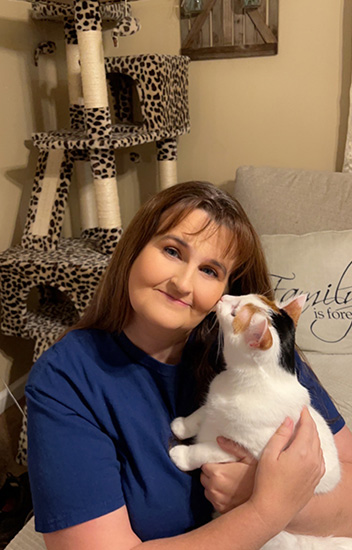 Tina
Tina Bailey
Customer Concierge
"Real G's move in silence like lasagna"
Pet: Waylon & Mario - Snowshoe Kitten, Phoenix - Calico Kitten
Role: She's a cat lady that helps people find their new puppy
Hobbies: TikTok enthusiast, pinning recipes and DIYs on Pinterest that she will never do, dancing in her kitchen
Fun Facts:
Collects Farmhouse decor, doesn't own a Farmhouse
Buys some sort of bag whenever she is at the store for no apparent reason
Owns an island on Animal Crossing
Strengths:
Song lyrics
Matching socks
Running on little to no sleep
Weaknesses:
Cruises
Online shopping
Her granddaughter
Kelli
Kelli Dean
Customer Concierge
"The better I get to know men, the more I find myself loving dogs." Charles de Gaulle
Pet: Cooper - Cavapoo, Leo - Cane Corso, Piper - Border Collie, Cardi P - Pig, Olaf - Cat
Role: Helping puppies find their "fur" ever homes
Hobbies: Spending time with her kids, she has 4. Wait! Do moms get hobbies? Loves boating, hiking, being outdoors, and spending time together.
Fun Facts:
Can lay down a pretty mean freestyle rap. The kind of G little homies want to be like
Had more photoshoots with Coop than with her kids
ALWAYS beating her toddler at Rock, Paper, Scissors
Strengths:
Amazon shopping after happy hour, ask me why I own a snowblower in the South
Her kids say, "Best Mom Ever." She thinks they are just getting ready to ask for something
Good listener, loves to learn about people
Weaknesses:
Anything Halloween or Christmas, a hopeless over-decorator
Trash-picking - loves refurbishing old furniture
Craft stores, never met one she didn't like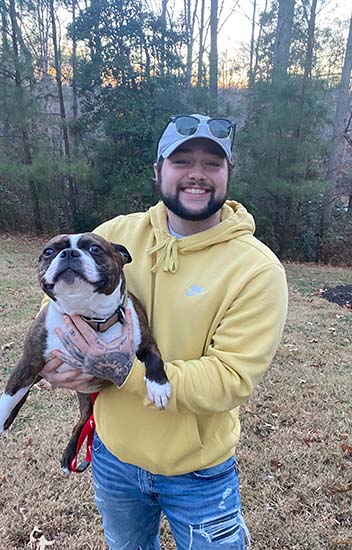 Aaron
Aaron Wood
Customer Concierge
"You done messed up ay ayron"
Pet: Gunner - Boston Terrier, Gage - Boston Terrier
Role: Helping families find new furever pups!
Hobbies: Fishing, sightseeing, binge watching everything on Netflix
Fun Facts:
Has a son named Cobin
Can't stand any type of mess
Everyone says he looks like Post Malone
Strengths:
Hardworking
Online shopping
People watching at the bar
Weaknesses:
Cold weather
Spiders
Sleeping with the fan on
Beth
Beth Thomas
Puppy Concierge
"Remember, today is the tomorrow you worried about yesterday"
Pet: Harlee - Cockapoo, Cooper - Mini Goldendoodle
Role: Help customers find their perfect fur baby companion
Hobbies: Raising her kids and fur babies, going to the beach, social butterfly, shopping, riding her Peloton
Fun Facts:
Momma bear raising 4 kids and 2 pups
Survived a horrific golf cart accident
Born and raised and still lives in Maryland
Strengths:
Relaxing beach side
Works well with others
Pays attention to details
Weaknesses:
Retail Therapy AKA Shopping
Indecisive
Pizza
Sandra
Sandra Turner
Breeder Liaison
"Imperfection is beauty, madness is genius and it's better to be absolutely ridiculous than absolutely boring." ― Marilyn Monroe
Pet: Pancakes - Siamese Cat, Porter - Border Collie/Chow mix
Role: Helping breeders find loving and fur-ever homes for their babies
Hobbies: Taking Walks, spending time with family and friends, being outdoors, and taking pictures
Fun Facts:
Has an obsession with baskets and jars
Can change her own brakes
Loves all adventures
Strengths:
Tech savvy
Independent
Creative
Weaknesses:
All animals
Anything halloween
Coffee
Renee
Renee Smith
Breeder Relations
"Never say die" - Goonies
Pet: Elsa - Cattle Dog Shorthaired Pointer Mix
Role: She is the new kid on the block, going step by step! The pups are always on her mind!
Hobbies: Sun catcher, Elsa follower, flower lover, bird watcher, car singer, book reader
Fun Facts:
Loves flowers but can't keep them alive
Owns 23 blankets
Goes to Target when she says she is going to the grocery store
Strengths:
90's trivia expert
Can hear a mandrake and survive
Doing different European accents at any given time
Weaknesses:
All things Christmas
Anything soft and fuzzy
Coffee mugs
Regina
Regina Diaddigo
Puppy Concierge
"The greatness of a nation and its moral progress can be judged by the way its animals are treated" - Gandhi
Pet: Hulk - Olde English Bulldog
Role: To dig up the most positively perfect puppy for each human!
Hobbies: Drinking coffee, cooking food her family doesn't want to eat, yoga, sending her friends memes rather than calling them
Fun Facts:
Vegan - has been for nine years
Coaches gymnastics
Really wants a donkey or a goat or a pig or cow…but her husband won't let her
Strengths:
Ignoring housework
Online shopping and finding all the deals
Teaching kids to read! She taught both of her children to read (she homeschooled for a while) and, for four years, she taught children in China to speak English!
Weaknesses:
Dark Chocolate
Mimosas
Chin-ups
Mary
Mary Artes
Customer Concierge
"Life is golden with a doodle"
Pet: Stella - Micro Mini Goldendoodle
Role: Prepares new "paw" parents on the arrival of their new puppies
Hobbies: Loves to travel. Next up is the Virgin Islands. Mom taxi to her two teenagers.
Fun Facts:
She has an identical twin sister and yes they can read each other's minds
Loves the anticipation of a good snow storm
One of those crazy Christmas lovers that has decorations up on November 1st
Strengths:
Organized
Good listener
Never loses a game of Scrabble
Weaknesses:
Pumpkin obsessed
Carb junkie
Watching too much reality TV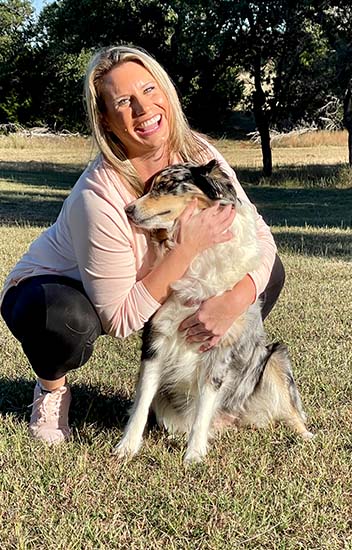 Janell
Janell Hester
Puppy Concierge
"Be the person your dog thinks you are"
Pet: Sir Braxxton de Pig 'Em Bottoms - English Bulldog
Role: Puppy Princess - making dreams come true with puppy love
Hobbies:
Fun Facts:
Easily distracted by a shiny object
Really loves anything pink
Collects Curious George everything
Strengths:
Napping
Constantly being confused
Loving puppies
Weaknesses:
Louis Vuitton
Pink Sparkly anything
Reese's peanut butter cups
Carli
Carli Rivera
Customer Concierge
"Always kill them with kindness."
Pet: Mother of a cat named TigerLily (Tigy) and auntie of two dogs, Chance & Africa
Role: Doing her top favorite things; talk & better yet, talk about puppies all day!
Hobbies: Binge-watch series, thrifting, car-aoke master, and keeping succulents alive
Fun Facts:
Spends more time planning than enjoying
Taught a cat to sit…and that's it
She multi-tasks even when she thinks she's not
Strengths:
Always the Group Mom
Big ol' heart
Shopping for Deals
Weaknesses:
Very emotional
Sushi
Anything and everything Disney
Tom
Tom Jeffrey
Puppy Concierge
"Don't water the plants, they're plastic."
Pet: Three Cavanese pups - Dunkin, DJ & Lola
Role: Helping people find their best furry friend
Hobbies: Making people laugh, boating, listening to music, and traveling off the beaten path
Fun Facts:
Once walked Joan Rivers' dog, Spike
Host of a small dog Meetup
Talks to a lot of strangers
Strengths:
Making people laugh
Putting IKEA furniture together
Seinfeld trivia
Whispering dogs
Weaknesses:
A messy desk
Cakes & cookies
Puppies
Sara
Sara Franck
Puppy Concierge
"It's not about how many times you fall, it's about how many times you get back up."
Pet: Zoe - Boxer
Role: Helping puppy's find their forever home, and putting a smile on their family's faces.
Hobbies: Gardening, Youtubing, glamping, they're a drag racing family....1/4 mile
Fun Facts:
She has so much yarn, people think she owns a store
Strengths:
Snooze buttons
Embarrassing her teenagers
Giving hubby puppy dog eyes
Weaknesses:
Amazon
Chik Fil A
All things puppy
Buying yarn
Brian
Brian Salta
Co-Founder
"The weather outside is weather"
Pet: Roi - English Bulldog
Role: Not writing copy
Hobbies: Wearing Under Armour, spotting celebrities in the airport and Costco shopping
Fun Facts:
Loves "ice cold IPA's and college football"
Has mastered driving with his knees
A former Olympian once called him "buff"
Strengths:
Forgetting Sarah Marshall quotes
Happy hour
Frequent flyer miles
Weaknesses:
Pasta
Stock trading
Dancing
Brenden
Brenden Salta
Co-Founder
"Whether you think you can, or you think you can't - you're right!"
Pet: Thea - French Bulldog
Role: Creative problem solver and visionary of the most simplest crosswalk and traffic light systems
Hobbies: Boating, traveling, exercising and overly researching anything and everything
Fun Facts:
Can sing most songs until the music stops
Once wore socks with sandals
Prefers to be the complete opposite of normal
Strengths:
Self deprecating jokes
Meyers-Briggs ENTP to a T
Not boring
Weaknesses:
Relentless determination
Heights
Math
Michelle
Michelle Miller
Puppy Concierge
"Men who say it cannot be done shouldn't interrupt the woman doing it."
Pet: Nala - Alaskan Klee Kai
Role: Connecting individuals and families with their newest family member
Hobbies: Dreaming of her future farmhouse/homestead, buying a ton of craft supplies and never doing anything with them, filling up her fridge to turn around and toss it all a week later, playing chauffeur to her daughter.
Fun Facts:
Married to her high school sweetheart
Comes from a big family - has 39 first cousins on just one side
Loves hugs
Strengths:
Organization, multi-tasker
Independent, quick learner
Graphic design
Weaknesses:
Writing
Fresh baked cookies
Puppies and babies
Bags (loves good bags)
Morgan
Morgan Elliott
Travel Liaison
"No worries"
Pet: Bailey - Labrador Retriever, Piper - Shih Tzu, Abe - Doberman Pincher
Role: She gets the puppies from the breeder to their forever homes
Hobbies: Working out, shopping, being a taxi for her kids
Fun Facts:
If she could she would have wayyyy more dogs
She may or may not love dogs more than humans
She has the ability to tune out her children and still hear the tv, phone, or another person simultaneously
Strengths:
Humor
Talking to people
Still being able to sleep after 45 cups of coffee a day
Weaknesses:
Saying no to her children
Saying no to her dogs
Amazon prime
Joseph
Joseph Hess
Puppy Concierge
"When your children are teenagers, it's important to have a dog so that someone in the house is happy to see you!"
Pet: Otto - Doberman (Pawrade puppy)
Role: The Oprah of dogs...you get a puppy, you get a puppy, you're all getting puppies!
Hobbies: Making embarrassing TikTok videos, trying to teach his old dog new tricks, thinking he knows more than every NFL analyst, people watching at Walmart, being a wanna-be actor, and explaining cryptocurrency to his parents.
Fun Facts:
He was on an MTV reality show
All-State Pitcher in Baseball twice in FL
He was in the movie War Dogs
Strengths:
Arm wrestling
Throwing pigskins a quarter mile
Handstands
Weaknesses:
Online dating (see strengths above)
Petting dogs even when the owner says they bite
Saying, "That's what she said," at the wrong time
Eddie
Eddie Rush
Puppy Concierge
"No worries"
Pet: Daisy - Yellow Lab, Simba - Cat
Role: Here to help find a puppy for anyone who is interested.
Hobbies: Likes to be outside, go to the beach, play sports, work out
Fun Facts:
Volleyball is his new favorite sport to play
Strengths:
Listening
Being responsible
Jodi
Jodi Leonard
Customer Concierge
"Sweetz"
Pet: Taji, Poh, Zuul, Mikah
Role: Here to help you find your next fur baby and member of your family
Hobbies: She enjoys hiking and walking with her dogs, gardening, and being outdoors in the summer. Loves the water and spends a lot of time in Lake Saint Clair!
Fun Facts:
Has a thick Canadian accent when she's tired or angry
Her fiance makes fun of her when she calls her dogs with "eh?" at the end
Strengths:
Movie Trivia
Laughing and not stopping
Cooking/BBQing
Weaknesses:
Clumsy
Online shopping
Her fur pups
Tony
Tony Stray
Puppy Concierge
Dog Whisperer
Pet: Chico - Chihuahua, Cabo and Greycee - Kittens
Role: Helps people find their new family member
Hobbies: Working out, hiking, really anything outdoors, foodie, loves hard rock and metal music
Fun Facts:
Hiked to the tallest point in the contiguous U.S.
Once flew into a tropical storm (landing just before the airport closed) to go to a music festival
Likes dogs more than most people
Strengths:
Procrastinating
Ordering takeout
Binge-watching Netflix
Weaknesses:
Procrastinating
Online shopping
Disneyland
Lara
Lara Bowen
Content Copywriter
Everything is figureoutable
Pet: Luna Grace - Black Mouth Cur
Role: Giving new pawrents the 411 on all things puppy related
Hobbies: Watching Real Housewives on repeat, Peloton, adding stuff to online shopping carts just to see how much it all costs & exit browser
Fun Facts:
Interior designer in past life
Puts ranch on errrythang
Crab Dip Connoisseur
Strengths:
Organized
Determined
Keepin' it real
Weaknesses:
Iced coffee
Reality TV
Overly sensitive
Courtney
Courtney Dean
Social Engagement Director
Crazy dog lady
"Kill em with kindness", "seriously", "The only way to do great work is to love what you do." –Steve Jobs
Pet: Evie - Pug, Lincoln - King Charles Cavalier
Role: The Anti-Social Distancing Police, responsible for the exact opposite of social distancing - Online style. Throws the wildest of wild Online paw parade parties.
Hobbies: Growing things, anything creative and foodie
Fun Facts:
The American Girl Doll "Courtney 1986" made her life complete
Extreme fear of rafts and praying mantis
Snackaholic
Strengths:
Doesn't have an off switch
Never gets tired
Not exercising
Weaknesses:
Diet Coke
Saying "no"
Gluten
Pugs