---
French Bulldog Puppies for Sale
The French Bulldog is very similar to that of an English Bulldog but smaller. They have a short muzzle and have been bred to have an even and pleasant temperament which makes them a great companion for families with children. They are very playful in nature and even have some hilarious moments as they thrive for human attention and long, lasting friendships. French Bulldogs are typically less than 28 pounds.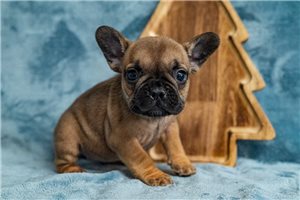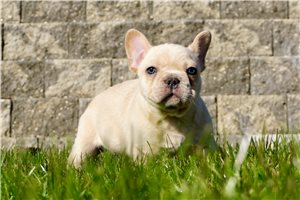 Health Guarantee

The health of your new puppy is our primary concern, read more about our Health Guarantee.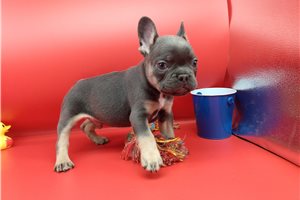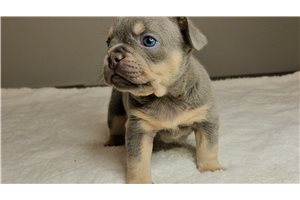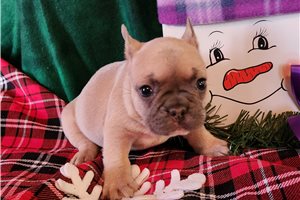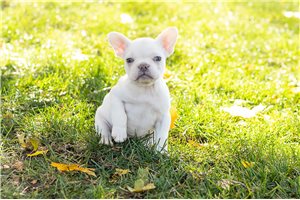 1-Month Included with every Puppy!*
Only with Pawrade, you receive a pet insurance policy with no waiting period included for immediate accident or illness coverage.
*NY, SC residents excluded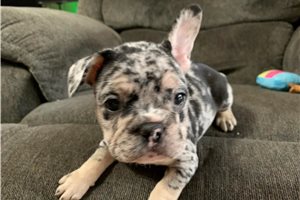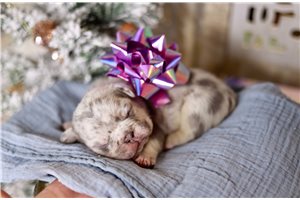 I found my little cha cha on Pawrade, she has brought lots of love and joy to our family. The breeder was very sweet and I still send her pictures to this day!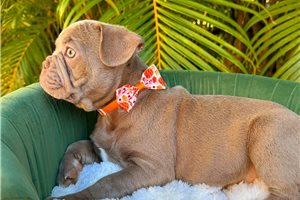 Champion Bloodlines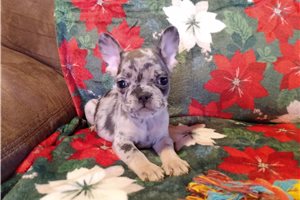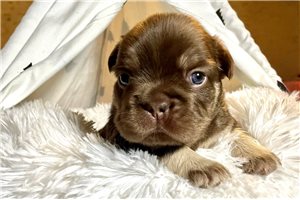 Champion Bloodlines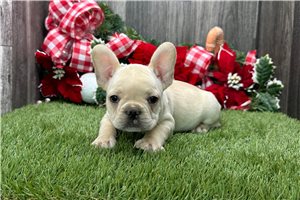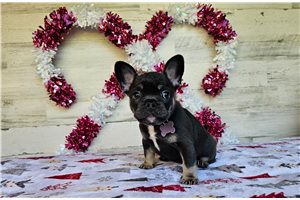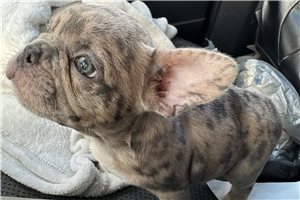 The French Bulldog is very similar to that of an English Bulldog but smaller. They have a short muzzle and have been bred to have an even and pleasant temperament which makes them a great companion for families with children. They are very playful in nature and even have some hilarious moments as they thrive for human attention and long, lasting friendships. French Bulldogs are typically less than 28 pounds.
French Bulldog Puppies for Sale: About the Breed
French Bulldogs, or Frenchies as they are nicknamed, have become one of the most popular breeds in the United States. They're consistently in the top 10 of most popular registered dog breeds in America. Before you start asking where can I find a "French Bulldog for sale near me" you need to make sure it's the right breed for you. Here is everything you need to know about French Bulldogs, including their history, appearance, disposition, activity level, care needs, and cost.
History
French Bulldogs are the result of a cross between Toy Bulldogs imported from England and local ratter dogs in Paris, France, in the 1800s. The breed was then exported to France, where it became known as the Bouledogue Francais. In 1885, these dogs were brought back to England and they eventually made their way to America. Frenchies are now their own specific breed.
Appearance
When it comes to appearance, the number one thing people associate with them are their large, bat-like ears that are set high on their heads. French Bulldog puppies for sale typically have a stocky build with short legs, a large head, and a stubby tail. A French Bulldog puppy has a wrinkly appearance and a short nose and muzzle.
French Bulldogs typically weigh between 20 and 28 pounds and stand 12 to 16 inches tall at the shoulder. Their incredibly gorgeous, short-haired and long-haired coats come in several colors and patterns, such as fawn, tan, brown, chocolate, cocoa, blue or dilute, cream, lilac, Isabella, black, brindle, piebald, and merle.
Disposition
If you're looking for a small, lovable companion dog, you can't go wrong with a Frenchie. These dogs are known for their affectionate, gentle nature and loving, easygoing personality, and they make great pets for families with children. They can be lively and hilarious.
Searching for "French Bulldog puppies near me for sale" and finding the right pup will leave you a companion dog through and through. They love nothing more than to cuddle up with their favorite person and they make excellent lap dogs. They do well in homes with children and other pets, although they can be a bit boisterous at times. They don't bark much and don't like to be left alone for long periods of time. French Bulldog puppies thrive in any environment from apartments to rural areas.
Activity Level
Looking for French Bulldogs for sale may have you wondering how much exercise a Frenchie requires to be happy and healthy. They are relatively inactive dogs and don't require a lot of exercise, although they do enjoy occasional walks and playtime. They are a great choice for busy people. You won't need a large yard for a Frenchie.
Grooming Requirements
French Bulldogs are relatively low-maintenance in terms of grooming needs. They can have a short coat that is smooth and soft to the touch. Some long-haired French Bulldog puppies are called Fluffies. When it comes to grooming, French Bulldog puppies only need to be brushed occasionally, and their nails should be trimmed regularly. They are also moderate shedders, so you'll need to do some regular vacuuming to keep your home clean.
Training
Opting for a French Bulldog puppy for sale is the perfect choice if you're looking for a funny, even-tempered, social pup. Training them can be more challenging since they are so incredibly stubborn. These dogs have big personalities and a mind of their own. You can make training a French Bulldog puppy into a game and offer rewards like food or treats, praise, and playtime. However, with consistency and motivation, their people-pleasing personality will have them trained in no time.
Cost
If you're wondering, where can I find a "French Bulldog puppy for sale near me?" make sure you're prepared for the cost. These dogs are not cheap, with prices ranging from $2,150 and beyond. French Bulldog puppies for sale can be higher priced due to their coat length, genetic makeup, and rare coat colors, including which genes they carry, such as the intensity coat color gene variant, dilution, merle, lilac, or Isabella.
They also have some health problems that can be expensive to treat, such as hip dysplasia, patellar luxation, and respiratory issues, so be aware of these expenses in addition to regular veterinarian care. However, with proper care, a Frenchie can be a loving and loyal companion for years to come.
When looking for Frenchies for sale, it's crucial to factor in the ongoing costs beyond just the initial price. Food, toys, veterinary care, vaccinations, and other ongoing expenses should be taken into consideration.
For instance, if you're planning to travel with a fluffy friend, be ready to pay for a pet-friendly transportation service. However, for many owners, the joy and companionship that these beautiful pups provide are well worth the investment.
If you're looking for French Bulldog puppies near me, be sure to research breeders carefully. A trustworthy breeder with Frenchie puppies for sale will provide documentation of vaccinations and other health records for their puppies. A good breeder will also be happy to answer any questions you have about the breed, including size, temperament, and grooming needs — so don't be afraid to ask away!
Some unscrupulous breeders are known for selling sick or poorly-bred puppies, so it's important to find a reputable source like Pawrade offering happy, healthy French Bulldog puppies for sale through pre-screened breeders.
Find more about this breed in our Ultimate French Bulldog Puppy Ownership Guide.
Why Pawrade?
Finding a reputable breeder has never been easier
Ready to find your perfect French Bulldog? Pawrade is dedicated to connecting loving families with a dog that needs a home. Using Pawrade to browse for a French Bulldog for sale is a reliable way to ensure that you get a dog from a reputable breeder.
Our focus is on the health of the dog and ethical, sustainable breeding practices. We ensure that the breeders on our platform are genuine, so you have peace of mind in knowing that you are receiving exactly what you expect.
If you've always dreamed of owning this type of dog, choose Pawrade for your French Bulldog for sale and begin a new chapter in your life today!
Stop searching for "French Bulldog puppies near me" – you've come to the right place! We understand just how difficult it is to find a legitimate breeder, so we've put our experience and expertise to work for you.
Why wait any longer? Browse through our vast selection of puppies for sale from a safe and reputable source.
Customers Love Us!
Discover what real customers have to say about Pawrade! Check out our glowing testimonials.
Our puppy is very well behaved, healthy and full of Love. Perfect Addition to the family
Pawrade staff are the kindest, friendliest people anywhere. Everyone I spoke to was knowledgable, experienced, and supportive.
Very smooth transaction from start to finish. Very happy with how things went and the communication everyone provided
We've had a great experience working with Pawrade. I would definitely utilize them again in the future.
Parade did a wonderful job on keeping me informed and updated on my new puppy would definitely recommend them to my friends and family
Excellent service in helping us bring our new baby dachshund home! This was my first time using pawrade but I would recommend it to anyone.