Your idea of Heaven is being surrounded by boisterous Corgis all with the zoomies, butts a-wigglin' in every direction.
Or perhaps it's being surrounded by a sea of Golden Retrievers, their fur blowing in the wind like a field of amber waves of grain catching the sunlight. Your heart is expanding already!
Did you know your dream can come true? All you have to do is attend a dog breed-specific gathering!
Even though a group of Pugs is called a grumble, we guarantee that no one will be muttering anything under their breath – how could you when your mouth is squealing with delight instead at the squirming mass of Pugs everywhere?
Dog breed meetups and gatherings have emerged as a fascinating and vital trend within the canine-loving community. These events bring together dog owners who share a common interest in a specific breed, creating a unique space for dog breed enthusiasts to connect and learn.
In addition to clubs and internet interest groups, dog meetups are a fantastic way to share resources. Maybe you're the only Great Dane owner you know. While your puppy has made friends of all sizes, maybe it's time to find someone its own size – or lots of them! Perhaps you have a breed that you've never met another one quite like your dog and you'd like to network with fellow rare breed dog owners.
Whether you know a lot of dogs of your same breed or are the only one, dog breed-specific meetups are fun for everyone. Let's explore the purpose of dog breed gatherings, where to find them, what to expect, and famous purebred dog meetups.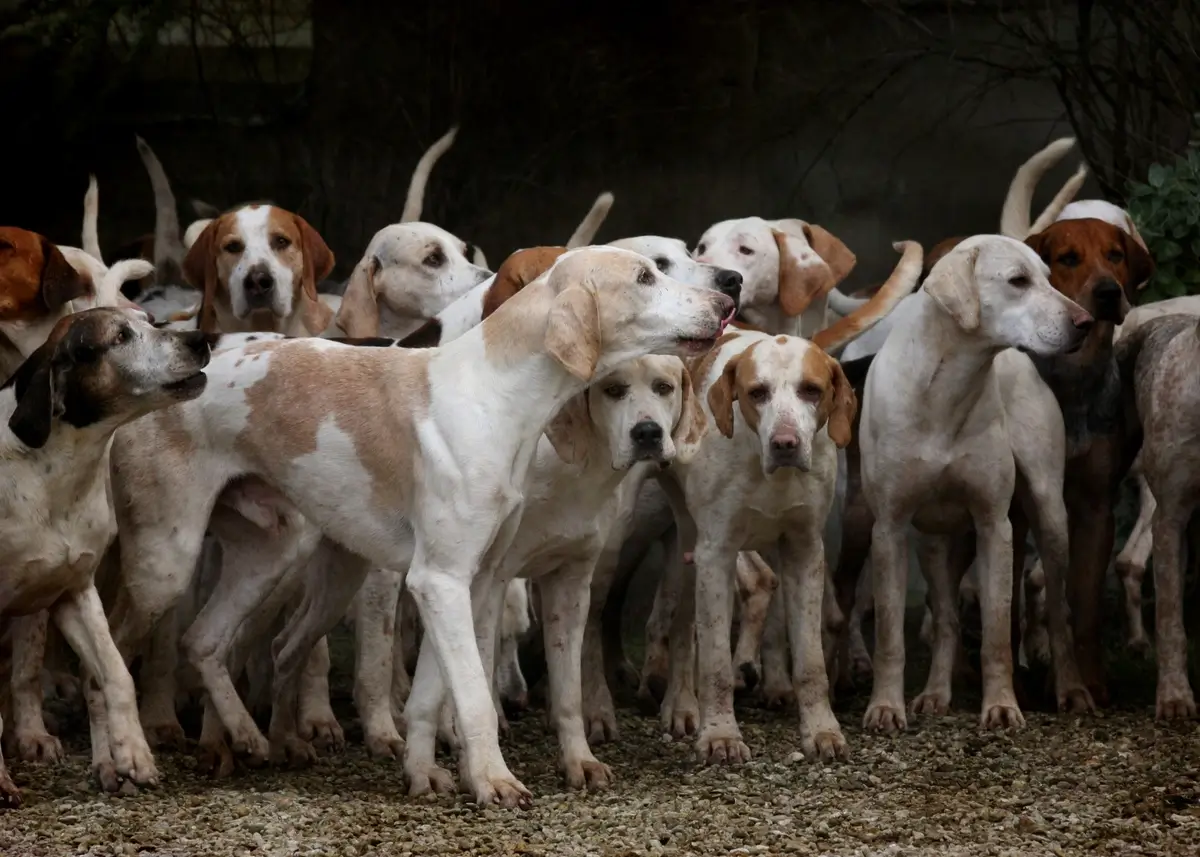 Why Have Purebred Dog Gatherings?
The growing trend of dog breed meetups and gatherings serves as a vital platform for education, socialization, and camaraderie among dog owners. These events enable individuals to deepen their knowledge of their chosen breed, foster a sense of community, and provide valuable experiences that contribute to the happiness and well-being of both dogs and their devoted owners.
Make new friends
Dog breed-specific gatherings provide an opportunity for socialization, not only for dogs but also for their owners. Dogs can interact with others of the same breed, enhancing their social skills and reducing behavioral issues. Simultaneously, owners can form lasting friendships, creating a support network for sharing advice and resources related to their specific breed
Participate in activities
Purebred dog meetups often incorporate fun and informative activities, such as breed-specific games or talks from experts. These activities can offer practical insights into training, grooming, and healthcare tailored to a particular breed, contributing to the overall well-being of the dogs involved.
Information station
Breed meetups offer a platform for like-minded individuals to exchange knowledge and experiences about their beloved dog breeds. Participants can discuss breed-specific quirks, temperament, and care requirements, facilitating a sense of solidarity in breed ownership.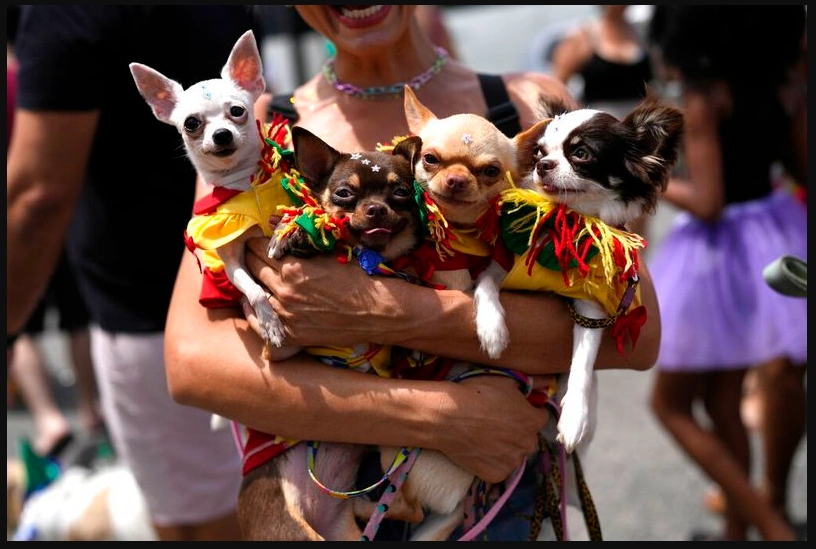 Where Can I Find Purebred Dog Meetups?
When you're looking for dog breed meetups near you, you might not know where to start. There are lots of ways you can find out about gatherings nearby.
Breed Clubs
Business events
Local breed rescues
Town sponsored events
Websites like meetup.com
Google or YouTube search
Social Media accounts and hashtags
News outlets in upcoming events calendar
Word of mouth: Ask your vet, friends, groomer, family, breeder, doggy daycare owner, and neighbors
Attend Dog Breed Meetups For a Pawesome Time
A gathering doesn't have to be thousands of dogs – it can be as small as 3 Australian Shepherds at the dog park chasing after the same frisbee. Small, local meet-and-greets may be more your style. If you're up for a day trip, try out a regional gathering. And if you really want to go all out, find your passport and go on an international trip with your dog!
All dog breed meetups will look different. Some are loosely organized and casual, while others have a multi-person board relying on hundreds of volunteers to keep the ball rolling. Whether held at an established place or descending upon a beach, you and your dog will love being surrounded by other dogs just like them!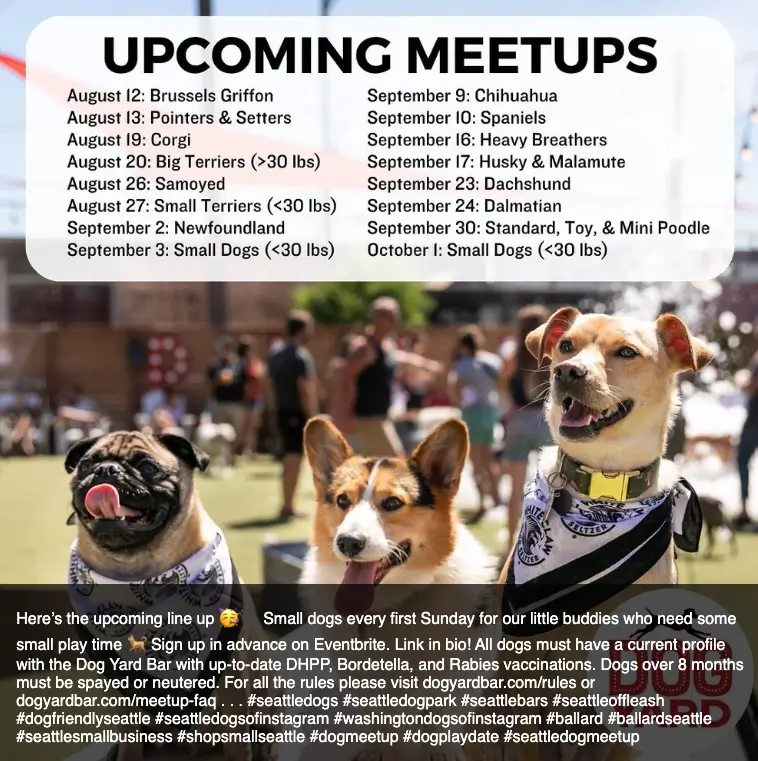 Dog-friendly locations: The Dog Yard Bar
When looking for dog meetups, don't forget to check your own backyard! There are dog-friendly businesses and locations that are happy to help host some canine fun right in your town.
One phenomenal space for a regional gathering of dog lovers of the same ilk is the Dog Yard Bar. Located in Seattle, WA, it is paws-down the best place to find local breed meetups in the Ballard neighborhood and surrounding Pacific Northwest areas. This is a unique dog-focused place where dog lovers and owners 21+ can gather for bubby beverages, fellowship, and watch their pooches romp around in a 2,800 sq. ft. off-leash yard during their meetup events.
Dog Yard Bar offers a huge variety of meetups for purebred dogs and their humans. Additional amazing resources include a bone-shaped dog pool, misters for hot weather, toys, obstacle courses, heated floors for cold weather, a doggie snack bar and bakery items, and plenty of alcoholic and non-alcoholic beverages for attendees to enjoy.
Visitors have a few rules to ensure safety before any paw crosses their entryway. Pre-registration is required so they can plan for the amount of attendees. Some registration guidelines exist for safe interactions: Human participants must be 21+, all dogs must be over 4 months old and have current vaccination records registered, spayed or neutered by 8 months old, wear just a quick-release collar with identifying tags, and there is a limit of 2 dogs per owner. To keep the tennis ball rolling, workers called Bark Tenders and Bark Rangers roam around to ensure everyone is happy.
Doberfest
Doberfest is an annual event organized by the Doberman Rescue of North Texas, bringing together Doberman enthusiasts and advocates in a celebration of this noble breed. Other than Dobermans, one big draw is the extensive raffle prizes attendees can earn with tickets for admission to the festival, such as wine and cheese baskets, crates, dog beds, dog toys, and more. Doberfest not only serves as a joyful celebration of Dobermans but also raises awareness about rescue efforts and encourages responsible Doberman ownership.
Doxie Derby
The Doxie Derby celebrates a decades-old tradition at the UC Davis School of Veterinary Medicine and is attached to Picnic Day, a huge festival hosted by second-year veterinary students as a fundraising opportunity. Dozens of these hilarious wiener dogs dash after a fake rabbit to win the title with over 5,000 people cheering them on at the sold-out event. Attendees can then visit over 200 booths and activities and mingle with fellow Dachshund and Mini Dachshund owners.
Not all of these sausage dogs get the point of the activity though. You'll see them running amok, visiting people, sniffing other dogs, and overall being blissfully unaware of the destination. Owners coax them from the finish line, and the entire crowd enjoys watching these hilarious dogs wander toward the finish line – or not!
Corgi Beach Day
Corgi Beach Day is a wildly popular gathering of Corgi lovers in Southern California put on by So Cal Corgi Nation held every spring and fall. Hundreds of adorable Corgis and their owners flock to Huntington Beach for a day of sun, surf, and Corgi camaraderie. The first Corgi meeting consisted of 15 friends of Mr. Pickles the Corgi, where they enjoyed name tag and ate sandwiches. Each subsequent event saw numbers quickly climb as word caught on, and 2021 saw 1,500 Corgis waddling and wiggling around! The event also raises funds for Corgi rescue organizations, emphasizing the community's commitment to the breed's welfare. While the event celebrates Corgis, this family-friendly event is open to all dogs given the title of honorary Corgis for the day. Corgi owners love this event so much that there have even been five marriage proposals– a true Corgi family love story!
International Dog Breed Meetups
Dog breed meetups have gained immense popularity not only locally but also on a global scale. These gatherings are a testament to the shared passion of dog enthusiasts worldwide. We'll highlight some well-known breed-specific meetups in different countries, showcasing the diversity and enthusiasm within the dog-loving community.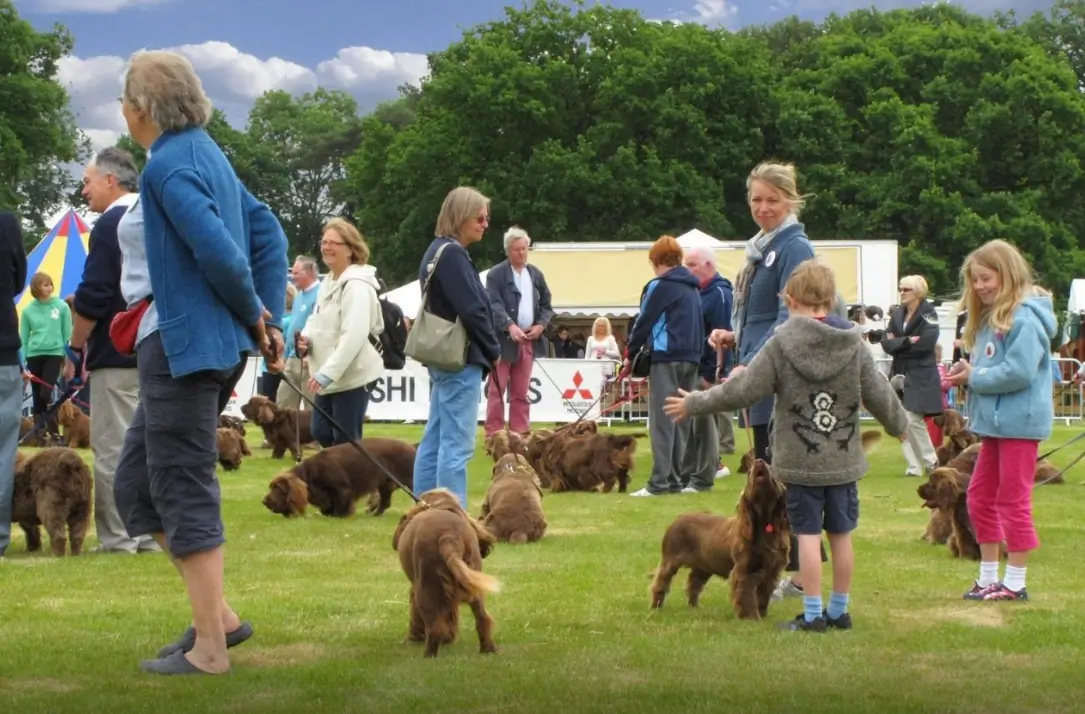 Sussex Spaniel Gathering
People who own rare dog breeds may often feel like they'll never meet a fellow dog breed member, but have no fear! Even rare dogs have their day at breed-specific meetups just for them.
The Sussex Spaniel is a British dog breed so rare that it is listed as a Vulnerable Native Breed with less than a hundred registered each year. However, the Sussex Spaniel Association seeks to bring awareness and celebrate this lovable, hardworking dog breed. A recent gathering of owners, breeders, and admirers at the Sussex Game and Country Fair saw a record-breaking 126 Sussex Spaniels romping around right in their place of origin.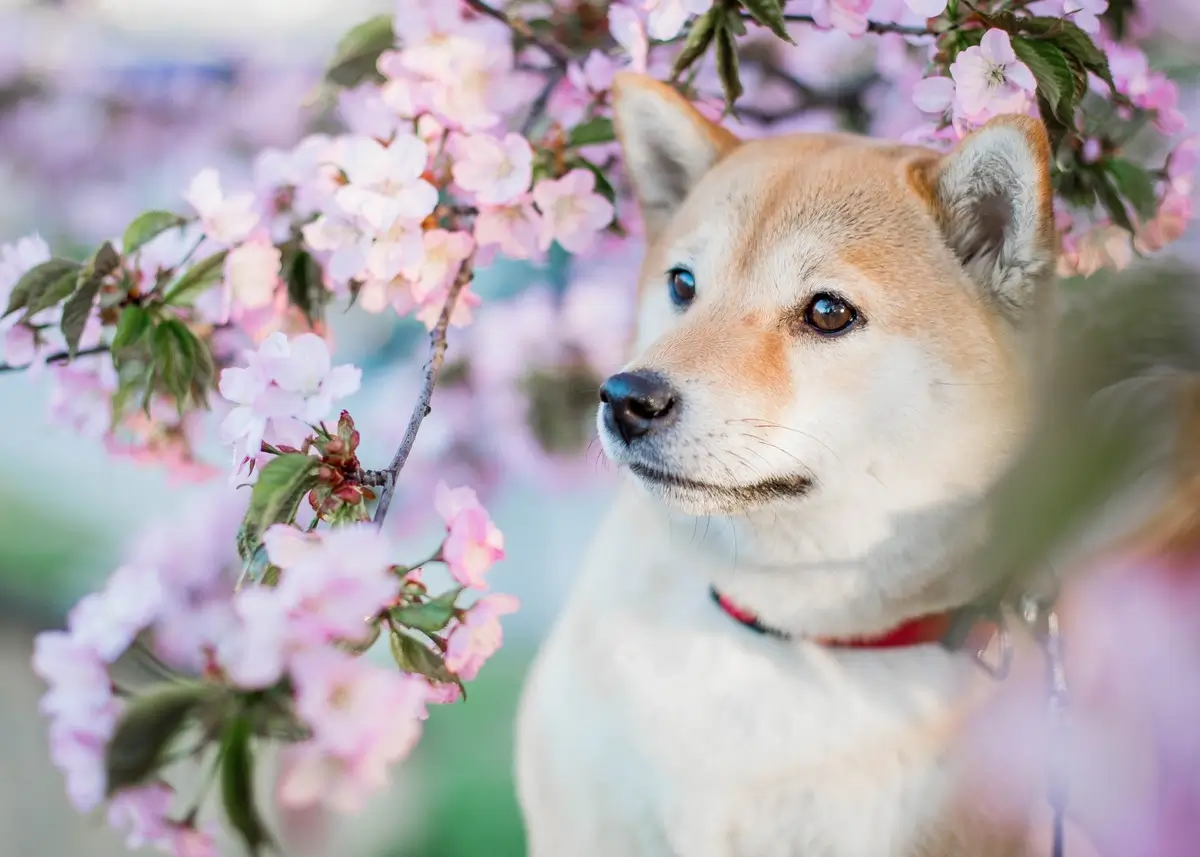 Shiba Inu Picnic in Tokyo, Japan
The Shiba Inu breed holds a special place in Japanese culture, and the Shiba Inu Picnic in Tokyo is a delightful reflection of this love. Shiba Inus are the most popular companion dogs in Japan with their cat-like habits, friendly demeanor, and the ability to entertain their owners with their silly antics. Shibas and their owners gather for picnics, agility courses, and cultural exhibitions, reinforcing the deep bond between this breed and its homeland.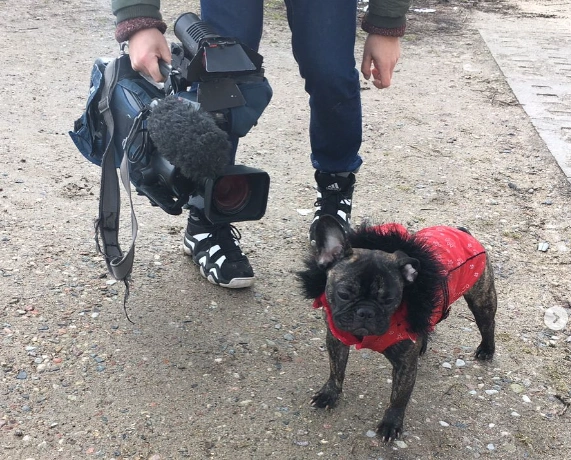 French Bulldog Frankie is being interviewed and filmed by a member of the media covering the Warsaw Frenchie Meetup
Frenchie Meetup in Warsaw, Poland
The Frenchie Meetup is an iconic event held in a 19th-century fort in Warsaw, Poland, celebrating the lovable French Bulldog breed. This meetup of over 6,000 Frenchies going on 20+ years now is a paradise for French Bulldog owners and enthusiasts, offering various activities and competitions that showcase the breed's unique characteristics. From Frenchie races to costume contests, attendees can immerse themselves in a day filled with French Bulldog-themed fun.Dachshund Day
Dachshund Day in Munich, Germany
Munich fell in love with the Dachshund breed when Waldi the Dachshund served as the 1972 Olympic Games mascot. Dachshund enthusiasts gather at Olympic Park on April 18 to celebrate the 50th anniversary of this elongated breed with themed games, parades, a walk around Olympic Lake, and even a Dachshund fashion show featuring creatively designed costumes. Around 300 Dachshunds attend, an absolute delight for owners, spectators, and of course, sausage dogs.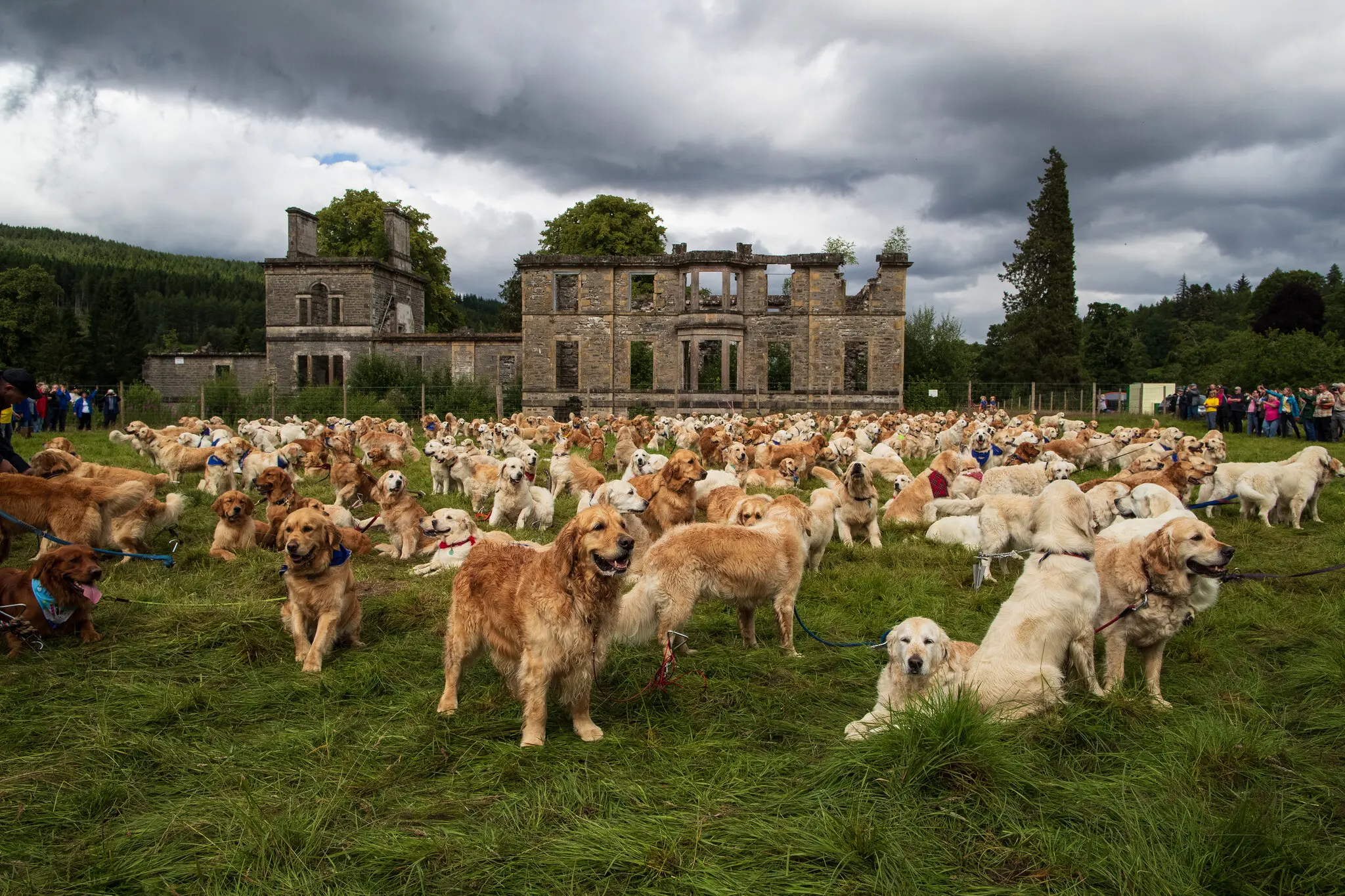 Photo courtesy of The New York Times
Guisachan Gathering in Scottish Highlands
Imagine the sound of 448 Golden Retrievers instructed to sit nicely for a group photo barking in excitement. That's a scene an attendee would hear – and chuckle at – when attending the Guisachan Golden gathering. Every 5 years, Golden enthusiasts gather at the ruins of Guisachan House where the first Golden Retriever was bred by Sir Dudley Marjoribanks who became Lord Tweedmouth. The event serves as a convention of pure Golden fluff, tails high in the air and wagging absolutely everywhere. This international event is so popular that over 10 countries were represented at the most recent gathering. Not only are there events for Goldens, such as obedience classes and hunting demonstrations, but the humans have fun as well with haggis competitions and a parade complete with bagpipes.
Bring a Pawrade Puppy to a Dog Breed Meetup
At Pawrade, our team members have brought their pups to breed-specific meetups and had a blast sharing the love of our breeds with other enthusiasts. Attending events has given us even more appreciation for our breed. If you are thinking of buying puppies for sale, you may want to find a meetup near you to learn more about the breed and meet fellow dog lovers. But first, you'll need a puppy! Browse our extensive collection of purebreds, designer dogs, and cute mixed breed puppies for sale to find your furever buddy to take to dog breed-specific gatherings.