The big day is almost here! In just a few days, you're going to be meeting your puppy for the first time and beginning your life together! You know you'll need to prepare your home for a puppy, and that includes providing a cozy place to sleep.
You take a shopping trip to the dog bed aisle in the pet store, but you get utterly overwhelmed by all the choices of shapes, materials, and sizes. "I'll figure it out later," you mumble to yourself while grabbing the first dog bed you see on sale.
Why is it that puppies rather fall asleep on your shoe than on their nice, new dog bed? While we aren't able to answer that just yet, we can explore how to choose a dog bed and encourage you to check out our starter dog bed recommendations for puppies so you can put that shoe back in the closet.
How to Choose a Dog Bed For Your New Puppy
Before you buy the first dog bed you find for your new puppy, here are some things to consider when purchasing a dog bed.
Because your puppy will be so new to your home, you won't know her preferences. You do know that you'll want to provide a little spot where it belongs to your puppy so she can have a place to go and rest. It's okay to go ahead and buy a basic dog bed until you're able to get to know your puppy in order to choose the right dog bed for your puppy.
What are my puppy's sleeping habits?
Does your puppy like to sleep curled up in a ball, on her side, or sprawled out? Does your puppy bury its head under a cozy blanket? Does your dog breed have a tendency to get cold?
When buying a dog bed, you need to consider the sleep style your puppy primarily prefers. Your pup will be so much more comfortable with the right bed for their sleeping habits.
Do I want a bed to fit my puppy now or a bigger one to grow into?
You should decide if you want to get a puppy bed that's the perfect size for your puppy now, but remember – they grow very quickly! Some smaller dogs may be fine keeping the same dog bed size their entire lives, while bigger breeds grow like weeds and may even skip a size seemingly overnight!
Should the dog bed be on or off the ground?
Does your puppy need a firm, raised platform cot, or do they prefer a bed on floor level? A raised bed is easier to clean under and around and protects your puppy from a cold floor. A bed on the floor level is easy to get up and lie down on.
What type of dog bed filling would be most comfortable for my puppy?
If a dog bed is stuffed, look to see if it's a continuous foam pad or if it's loose-fill foam. Loose-fill foam pieces allow a puppy to sink into the surface of the bed to get a contoured resting spot, while a continuous foam pad will provide more stability. Bolsters on the side provide a combination of the two with a cozy raised edge to lay their heads.
How easy to clean is this dog bed?
You'll want to check how to clean a dog bed when selecting the one that will work for your dog. Be sure to carefully read the care instructions on a tag and use pet-safe cleaners.
Several dog beds have zippered slipcovers that come off for a good washing in the machine. As a puppy owner, you know a puppy is going to have a lot of bathroom accidents when they're learning potty training. You can remove the cover, shake out loose dirt and hair, and wash the cover regularly to keep your home smelling fresh.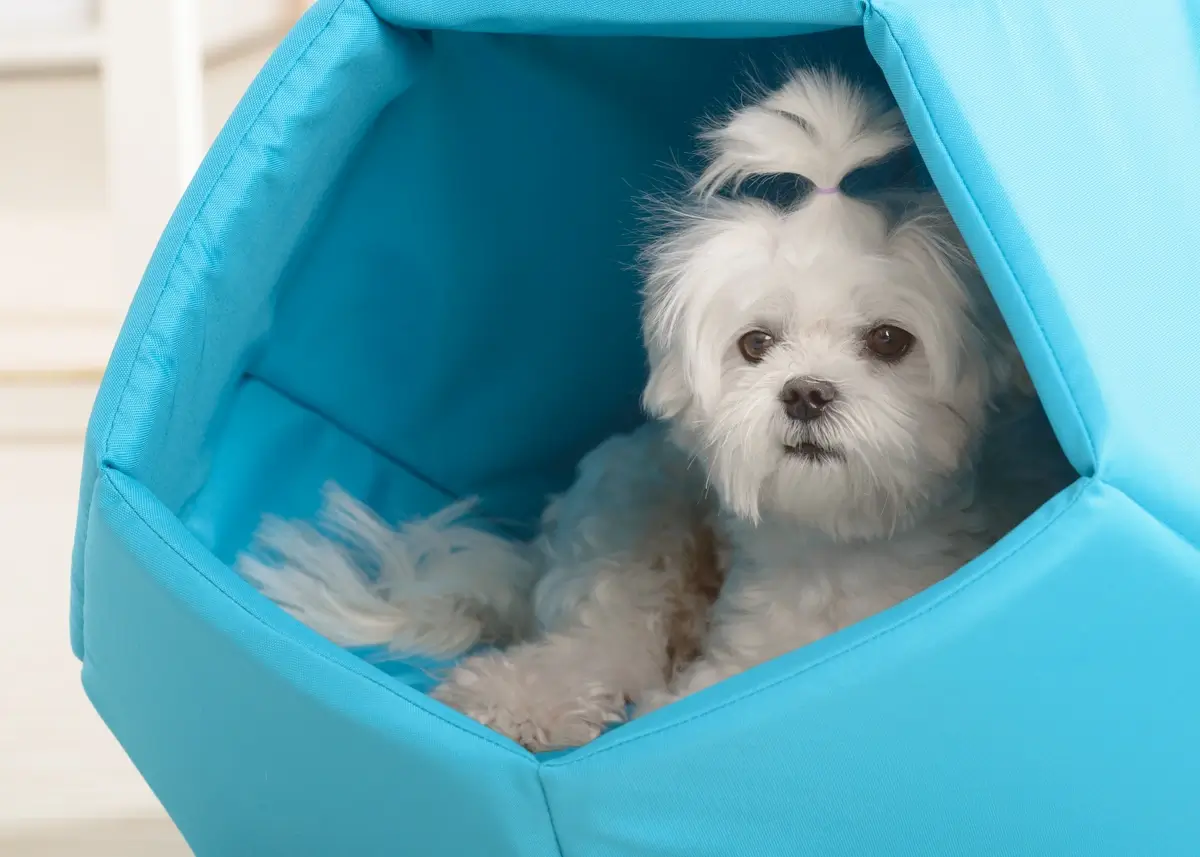 Is the dog bed in my price range?
There's a dog bed out there for every budget! The cost of dog beds can range from free or bargain discount store prices all the way to luxury designer sticker shock. Our recommendation is to buy a dog bed that meets the criteria you need that is within your budget.
Sales, coupons, and deals on dog beds from widely known stores and companies help keep down the cost of a puppy bed. Don't forget to check warehouse discount stores as well. You can even find new or gently used dog beds in excellent condition through online market resale groups. Even better, someone may pass along a dog bed for free to you that didn't end up working out for their puppy.
Where to Find the Best Dog Beds For Your Puppy
We've gathered a compilation of sites that have rated all sorts of dog beds, from calming donut-shaped beds to platform beds, and even tents to provide a sense of security.
10 Dog Bed Reviews & Recommendation Guides
Dream about Owning a Pawrade Puppy
Turn your dreams into reality with a Pawrade puppy to pet while he snoozes on the perfect dog bed. We've helped thousands of customers find their forever friend. Search our puppies for sale to find your next cuddle buddy!