The history of dog harnesses began when a human attached a piece of rope or leather to a domesticated dog to help humans perform tasks. When dogs began to become companions rather than living as strictly working dogs, simple dog harness options exploded into the huge variety of choices we have today.
To celebrate National Walk Your Dog Month this January, we want to provide as many dog walking tips and tools as possible for the absolute best experience for you and your pooch. Rather than standing in the dog harness aisle and getting overwhelmed at all of your options, we'll share how to choose the best harness for your dog and go over the different types of dog harnesses available on the market today.
Why Choose a Harness Instead of Just Using a Leash?
The ultimate goal for walking a dog is to have a mutually enjoyable time. It may be ideal for some dog owners to have a goal of walking their dog using a simple leash attached just to a neck collar, but that goal may not be achievable yet for others.
A harness gives the dog walker more control over the strength of the dog. If a dog pulls, a harness will reduce the possibility of seriously injuring or straining its neck due to choking and pressure, redistributing the pressure of a dog's weight to its back, shoulders, and chest.
A Harness Does Not Replace Training Needs
Regardless of which harness, leash, or collar you choose, you must remember that these are just some of the tools used in training a puppy.
Enroll in a basic leash-walking dog training program
Assuming your dog doesn't need leash training because they have a special harness that reduces pulling is not a substitute for a regular basic obedience class. Puppy kindergarten and other training programs will help your dog learn walking manners using commands such as Sit, Heel, Come, Off, Down, Drop it, and Leave it.
Keep a flexible mindset
Once your dog masters a certain skill, he or she may not need types of dog harnesses you previously selected anymore. Don't get too locked into the mindset that once you find one, you need to always use that type of harness. Instead, you'll need to be flexible and meet your dogs' needs with the right tool.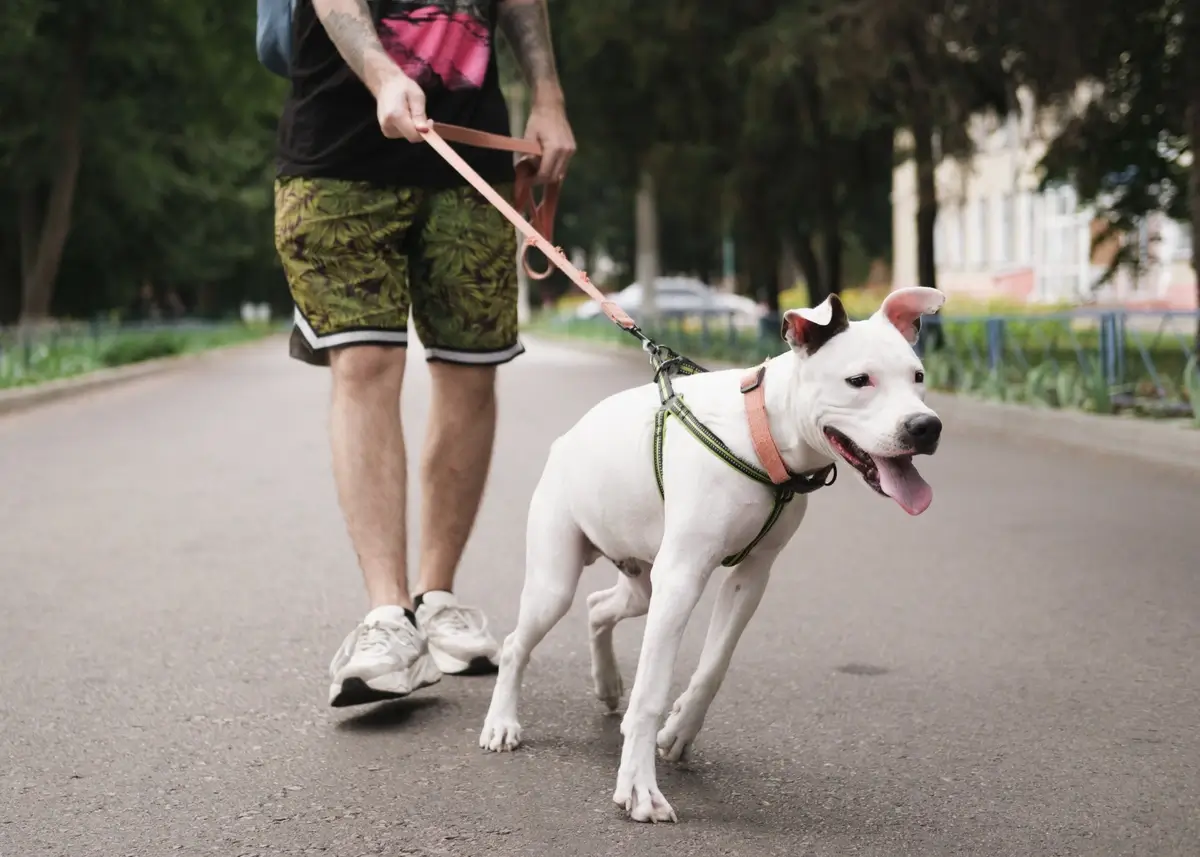 Deciding the Right Dog Harness For You & Your Puppy
In order to meet your dog's daily walking needs, you need to be aware of your dog's natural behavior, energy level, type of breed, size, and where your dog is in his or her training journey.
Your dog's natural behavior & energy level
Most dogs are very curious as puppies. Just about everything may be new and exciting to a puppy, so they will be distracted easily when trying to train them to go on walks.
When your dog matures, their personalities will be more apparent. It still may maintain that enthusiastic puppy energy and continue to want to sniff and explore. Your pup may see every passing dog and person as an opportunity to make new friends and want to mingle, tangling up leashes. Your dog may become a bit more calm and amble effortlessly by your side while observing the world. Other dogs may lock into their prey drive more as they grow older and want to bolt after a leaf they think is small prey.
If you have a breed that is known for its extremely high levels of energy, such as a Border Collie or Australian Shepherd, they will definitely need to be walked more than, say, the English Bulldog who would rather give you a side eye and a sigh than run to fetch its harness for a walk.
Your dog's size does not equal its energy level
There are dog harnesses for all shapes and sizes out there for the tiniest of teacups to the gentlest giants of the canine variety. Size does not always indicate the energy level of your dog. While adult Bernese Mountain Dogs are extra large dogs, they tend to have mellow personalities and are not the type to run after a squirrel. In contrast, a Rat Terrier puppy is rather small but packed with athletic, spirited energy. A Basset Hound may be a medium-sized dog with a fantastic sense of smell, but they are notoriously stubborn and decide their own agenda and may refuse a walk altogether!
Choose a dog harness that fits your puppy correctly
However, your dog's shape and size do indicate the size of the dog harness you choose. You'll want to select a size that fits your dog comfortably and isn't too snug to cut off circulation and chafe and not too loose in case they wiggle their way out. As they grow, prepare to size up at each growth stage to maintain proper fit.
When you're looking for a harness, you'll need to know these numbers:
Your dog's weight

Inches around the chest

How tall at the withers (shoulders)

Inches around the neck
Types of Dog Harness Styles to Try out on Your Walk
There's a type and style of dog harness out there to fit every dog and situation. After you've considered your dog's personality, energy level, breed, and size, it's time to learn about the dog harness that is best suited for your puppy.
Choose the simplest and most durable harness that meets your needs rather than going straight to the top-of-the-line harness with all the bells and whistles before you know which type to get. Practice putting it on and taking it off, using a few treats in the process to make it a fun experience. That way, you will both know what to expect when using your dog harness.
Front hook/clip harness
Front hook (also called front clip) harnesses are often called anti-pull harnesses and are used for dogs that tend to pull. The harness will pull their body around, and because dogs don't like going in directions they are not facing, the harness stops them from pulling.
If your dog is fairly well-behaved with great leash & walking manners, a front hook harness is not really needed since this is more of a training tool for natural pullers. Likewise, once your dog masters walking on a leash without pulling, you won't need a front hook harness and can move on to something else.
These types of harnesses are easy to get on and off. They're meant to be a training tool, so you won't want to leave your dog in a front hook harness for long.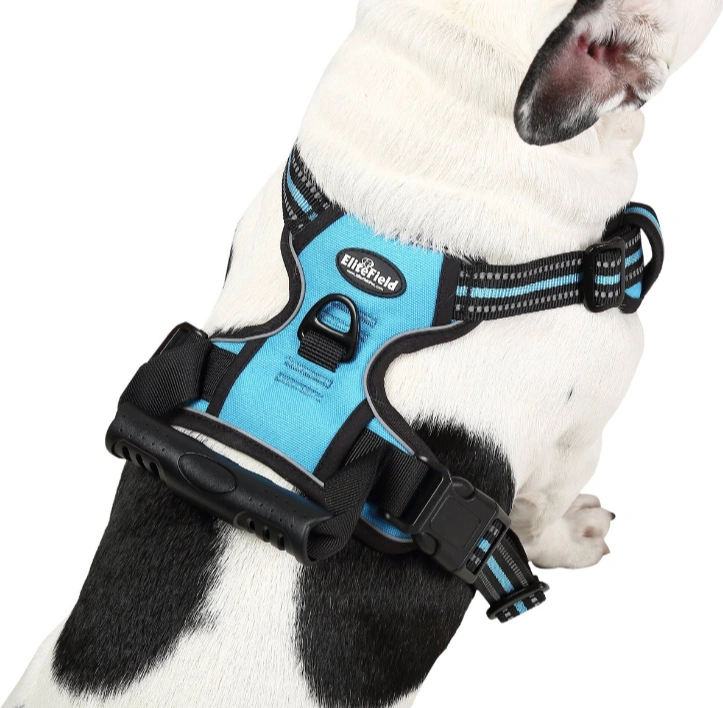 Coming in 4 sizes ranging from 15-43 inches, this harness caters to all sorts of chest sizes. The soft padded cushions, reflective safety strip, and adjustable straps make this no pull dog harness a great choice.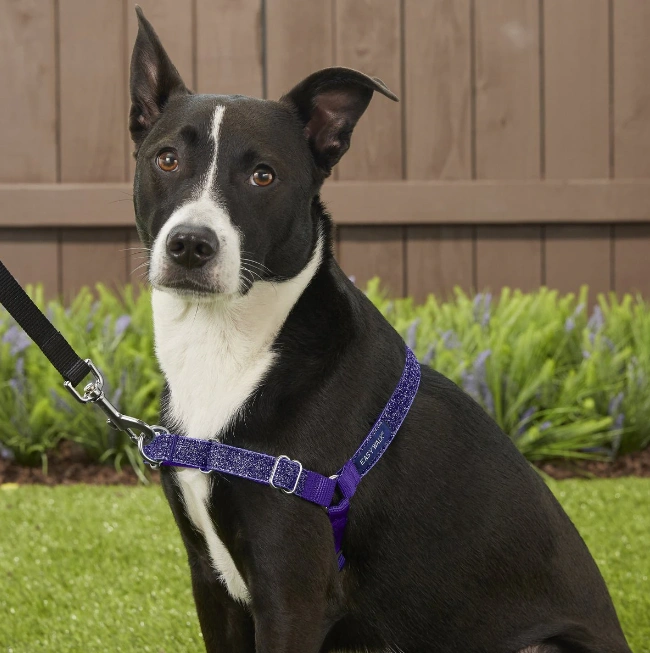 Developed by a veterinary behavioralist, this harness sits on the chest (not the throat) to help steer your dog in the right direction.
Body harness
A traditional body harness is the most versatile harness for dogs. This simple harness goes around the chest, back, and shoulders to redistribute body weight with few points of chafing and pressure as possible.
It's a fantastic choice for dogs that love being athletic with you, such as dogs that love to go hiking or running. It's a comfortable choice that can be worn all the time and also works for smaller breeds as well.
When not to use: If you put a body harness on a dog with a natural tendency to pull, you are making it easier for the dog to throw his body weight into the tug-of-war game you have going on now. As they lean forward, we have a tendency to dig in our heels and pull back. But due to the ease of weight distribution made possible by a body harness's design around the shoulders and chest, pulling is actually pretty comfortable and easy for a dog and serves the opposite purpose of trying to get them to stop.
Body harnesses can sometimes be complicated to put on or take off and can get really pricey pretty quickly due to the add-ons and upgrades like extra handles, leashes, a variety of d-rings, padding, material, and more.
A step-in vest design and adjustable straps with quick-release buckles are a good choice for smaller dogs that allows for natural shoulder movement. Durable material and reflective strips keep your dog safe and comfortable.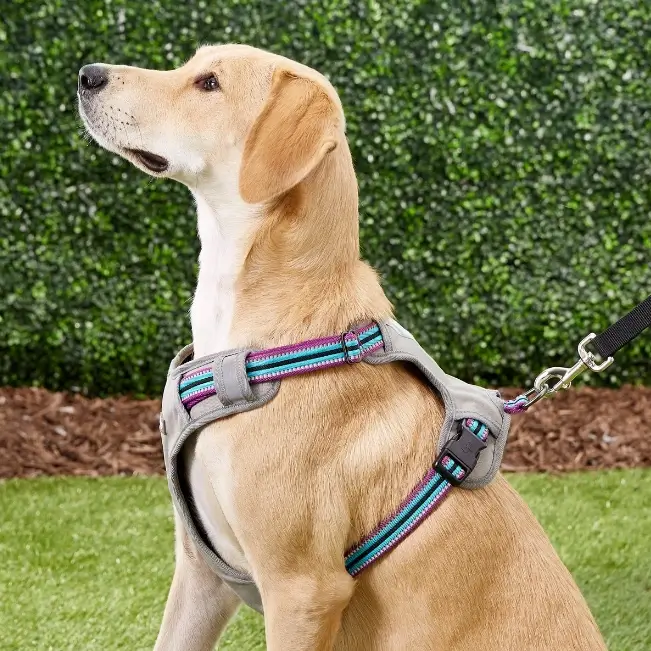 The 2 separate vests, 4 adjustable straps, and durable D-rings help you get a sturdy, correct fit for your dog without sacrificing comfort.
Combination/dual harness
For an even more versatile choice, choose a combination dual dog harness with the option of using a back clip or a front clip experience. These types of dog harnesses are fantastic for the puppy who is transitioning from pulling to walking with good doggy manners. You can get more bang for your buck if you select this style of dog harness.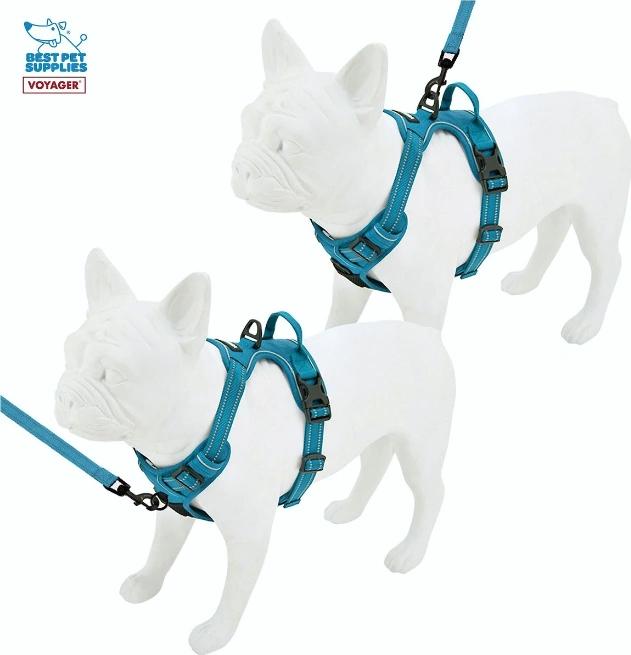 Featuring extra padding and durable materials, the front-and-back clip design helps reduce pulling and offers more control for adventurous walks.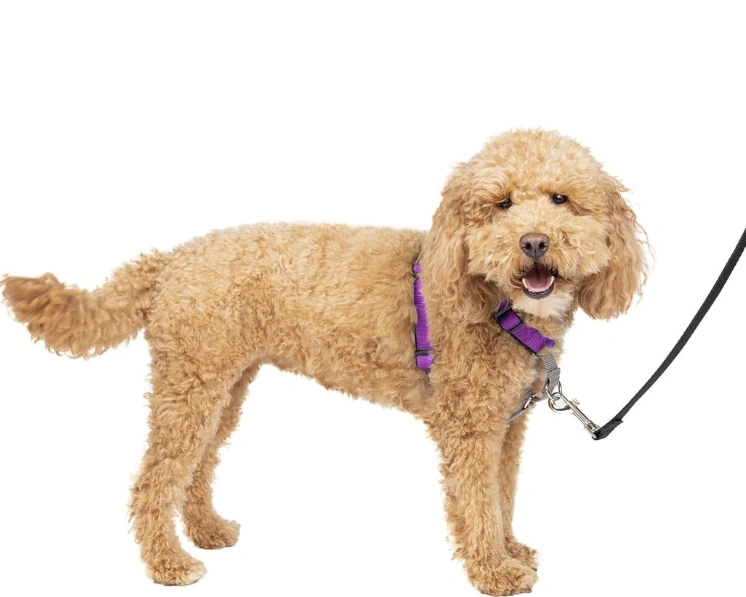 A harness that does it all is a great choice to cover all your bases. Safety, versatility, durability, and comfort combine into a useful harness great for all situations, whether you use the front clip, back clip, or secure seatbelt option.
Head harness
When used properly and effectively, a head harness can help control extra tough pullers. A head or nose harness can be a new sensation for your puppy, so teach him to put it on by using a treat to guide his nose to go through the loop. Have your puppy wear it around the house to get him or her used to it for short amounts of time.
A head harness runs the risk of owners misusing it and can potentially cause pain to your dog. Never jerk on the leash to get their attention. This type of leash is not recommended for a combination of inexperienced children and unreliable, not fully-trained dogs.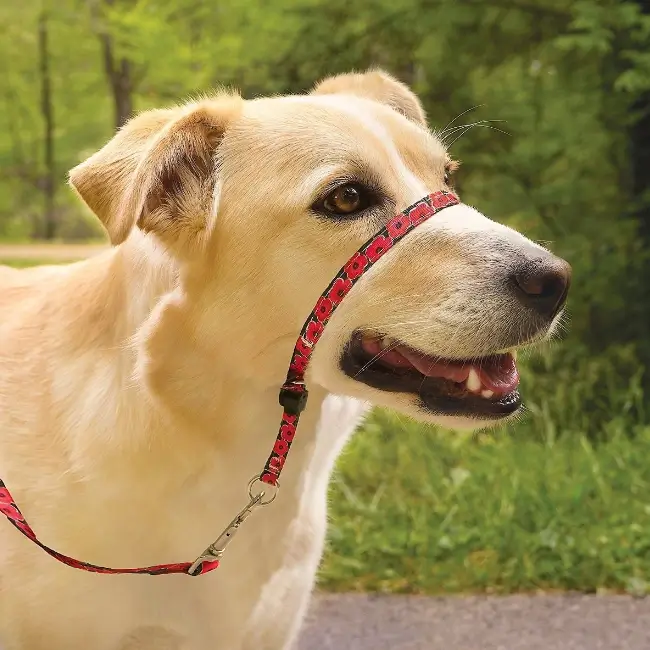 The Gentle Leader is a go-to choice for dogs in training, reducing barking, jumping, pulling, and lunging behaviors. A padded nose loop and adjustable straps ensure a comfortable, secure fit.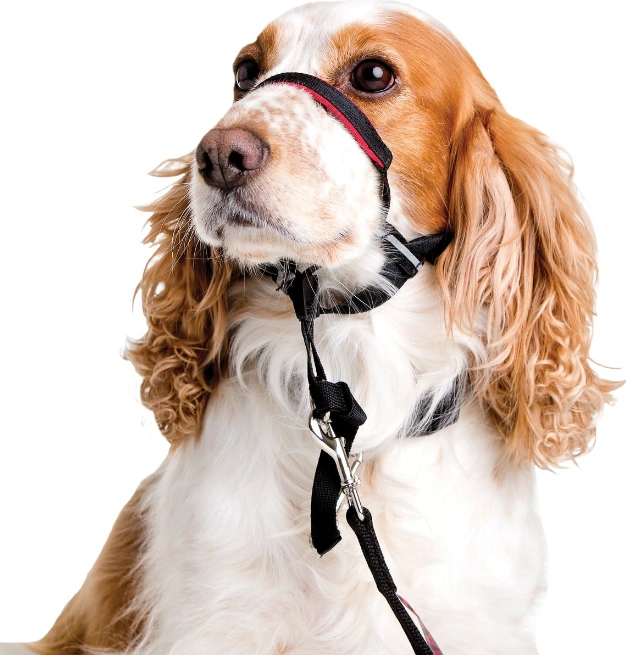 Maximum comfort and adjustable, reflective straps provide gentle pressure to lead your dog in your desired direction. This harness in particular fits both long and short-nosed dogs, a versatile feature to cater to several breeds.
Adventure Harness
Whether you are going hiking, backpacking, or for an extended greenway walk, an adventure harness is the way to go. Your dog can carry water, food, and supplies in the pouches usually located on either side of the spine. This type of harness is also made from durable, weather-resistant materials to withstand more wear and tear than a regular walking harness.
The key to choosing the best backpack dog harness is making sure it fits comfortably and does not have unevenly distributed weight or too much weight for your dog's body frame to handle. Because it is a bulkier harness, you'll want to have your pup practice wearing it around the house and for short walks until they are used to it rather than surprising them on a long walk or hike with a full load for the first time.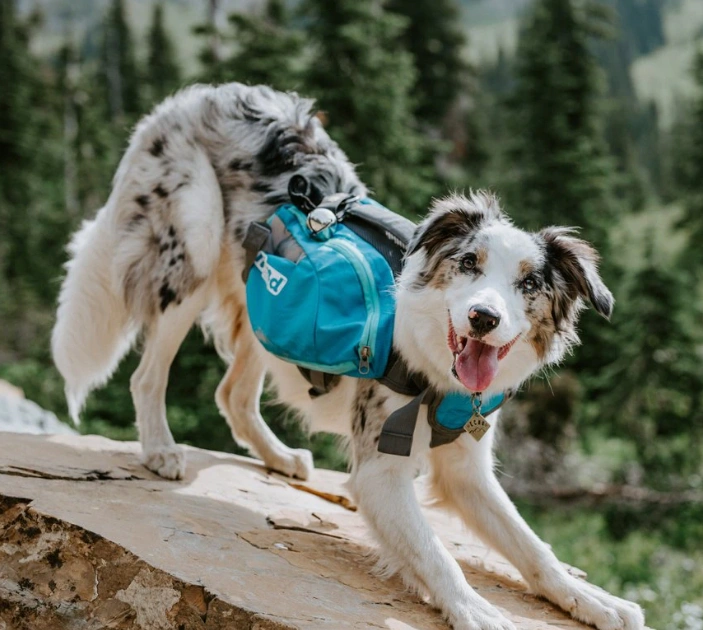 With 4 separate pockets and water-resistant fabric, this harness is ready for any adventure when you are! The breathable mesh and fun designs help you show off your pup's style in comfort.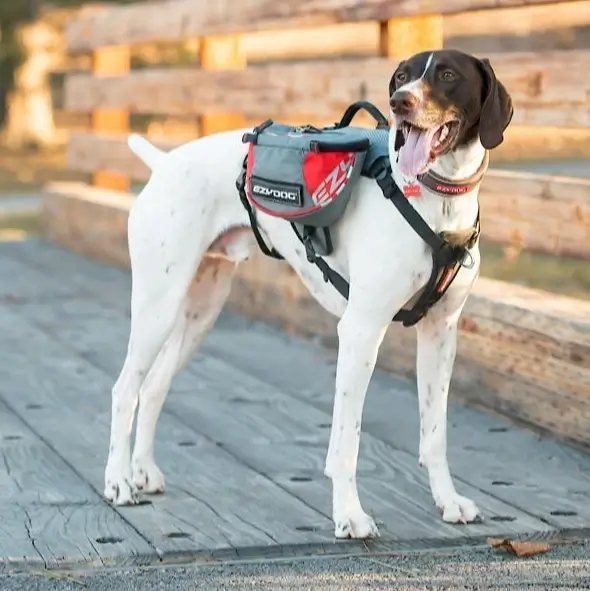 This harness is a fantastic choice for the most rugged of hikes. Its design features rust-proof, durable materials and a built-in padded handle and thick straps to help larger dogs ascent and descent while providing you comfort as well.
Harness the Cuteness Factor of a Pawrade Puppy
We love walking our dogs. It's a great way to bond with your 4-legged friend and get in some heart-pumping exercise as well. We have a dog to fit every harness available on the market! Find your own puppy to walk when you browse our puppies for sale.