Congratulations! You've thought long and hard about if you're ready for a puppy, and your whole family is filled with anticipation. But when it comes to finding a puppy, it can be overwhelming to figure out where you will find your new furbaby. You saw a stand at the flea market last weekend selling puppies out of a cage, but you really want to avoid supporting sketchy operations like that. Do you start with a pet store? Turn to local social media marketplaces? Or do you seek out a trusted, established business that keeps you and your future puppy's best interests in mind?

You may turn to Google and search, "Puppy for sale near me" and find several options. However, your search results can be all over the place. Ask yourself a series of questions when you find a puppy from a business that piques your interest like Pawrade.
How can I

avoid buying a puppy from a puppy mill

?

Am I able to

identify and prevent holiday puppy scams

by knowing red flags to look for when I am looking for my furever friend?

What types of puppies do they offer?

Do they work with reputable, trustworthy breeders?

What is the sales process like?

Do they offer a

health guarantee

for their puppies?

Are there real people that work for the company?

How responsive is the company to people's questions about the puppies offered?

What are other people's experiences with this company?
All About Pawrade Reviews
Seeing what other customers have said about the company can give you a great feel for what your experience may be like. Find out why Pawrade reviews are essential to read, what makes a good Pawrade review, and see what real customers say about adopting a puppy for sale with Pawrade.
If you're a proud Pawrade puppy parent, don't forget to sign up to be part of our community and support potential dog owners by sharing your experience with Pawrade puppies in your own review!
Why Are Pawrade Reviews Essential to Read?
When you are about to make a major decision on a purchase, how do you evaluate the product to come to your answer? Do you choose a wine based on how attractive the label is, or do you read reviews on it? Do you gravitate towards the items only on sale? Or do you pour over customer and company reviews to see what worked for other people?
A customer review is a written or spoken account of a person's experience using a service or buying something from a company. Customer reviews can help you make informed decisions about whether or not to purchase a product or use a service. They can also help you compare different companies and find the one that best meets your needs.
Pawrade reviews are important because they provide valuable feedback about a product or service. When it comes to questions about adopting Pawrade puppies, reviews give potential buyers more insight into the experience from start to finish. They can be positive, negative, and everything in between, but they should always be honest and fair.
When you're searching for a puppy for sale, you can get a full picture of how our process works directly from our customers by reading Pawrade reviews.
Do People Read & Write Customer Reviews These Days?
Each year, more and more people turn to online customer reviews as a way to help inform their decisions. Word-of-mouth and personal recommendations used to be the primary way people would gather information about the service or product they were interested in. Today, people trust online reviews as much as they would coming from a friend or relative.
According to BrightLocal's 2022 Local Consumer Review Survey, 77% of potential customers 'always' or 'regularly' read reviews when browsing for businesses in 2021, up from 60% in 2020, and 98% of people at least 'occasionally' read online reviews. Also, 87% of customers overall will read at least one review. Clearly, we're not talking about a handful of people who may glance at reviews!

The same survey also found that 72% of consumers have written an online review, up from 66% in 2019. Both reading and writing reviews are common practices the majority of consumers do to help others understand their experiences with companies.
Pawrade sees a steady stream of customers that both read and write reviews of our services. You'll get a better feel for going with Pawrade from regular reviews rather than sporadic ones.
Where Can I Find Pawrade Reviews Online?
It's fairly easy to locate reviews online. People may use a company's social media site to leave a review on their page. Leaving a review on Google or an established site such as Trustpilot.com are also popular places to find reviews.
When you look at reviews on an independent source, you can know a company is not hand-selecting or fabricating reviews to make themselves look as attractive as possible. Instead, you want real customers to tell you about all aspects of the service or product.
Through Trustpilot Pawrade Reviews, potential puppy parents will see we have a 4.8/5 "Excellent" rating.
What Do Solid Customer Reviews Cover?
When looking for online reviews of a company or a product, you'll find all sorts of writing styles represented. Some people just leave one-word answers, which are not helpful. A potential customer is not able to get a full sense of a satisfaction level. Others may list items in a bullet point format. These give a bit more insight but lack telling you the "why" or "how come."

Writing a great customer review covers the "what" and the "why/how come" reason the reviewer chose the brand or product. What parts are the way they are, and why? Did a particular employee help the reviewer through the process? Would they recommend this company to someone else or plan on being a repeat customer in the future? Customer reviews that use specific examples can build a better understanding of various aspects of the business or overall experience.
What Should I Keep In Mind When Reading Pawrade Reviews?
When reading customer reviews, it is important to keep in mind that everyone has different experiences and expectations. What works well for one person may not work for another. However, customer reviews can give you a general idea of what to expect from a company. Whether a positive or constructive review, a solid review should cite specific reasons for the opinions shared.

In regards to a negative review, see if the person left details about their experience. In addition, you may see the company chose to respond to the review as well. It's important to read all reviews and company responses carefully to get an overall vibe of the company rather than let one review sway you.
You should also keep the timeline in mind. For example, a review from many years ago may not be relevant or accurate anymore. Pawrade takes a proactive approach to feedback, listening closely to our customers and taking action on areas where we can improve. This attention to feedback ensures that we are always striving to improve and perfect our adoption process.
By keeping these factors in mind as you read reviews of Pawrade, you'll be better equipped to evaluate the experiences of other buyers and determine if Pawrade is the right choice for you. We take our reviews very seriously at Pawrade. We continue conversations with our customers to improve on services and love hearing specifics about customers' experiences.
What Are Customers Saying about Buying a Puppy For Sale With Pawrade?
As a potential puppy parent, you may be wondering what it's like to adopt a puppy from Pawrade. Our Pawrade reviews can help answer any questions you may have and learn about other people's experiences bringing home their new furry friend.
From the moment you browse our puppies for sale to when our travel team delivers your wiggly pup into your loving arms, you'll find satisfied Pawrade customers happy about every step of the way.

Here are some Pawrade reviews from real customers about our process: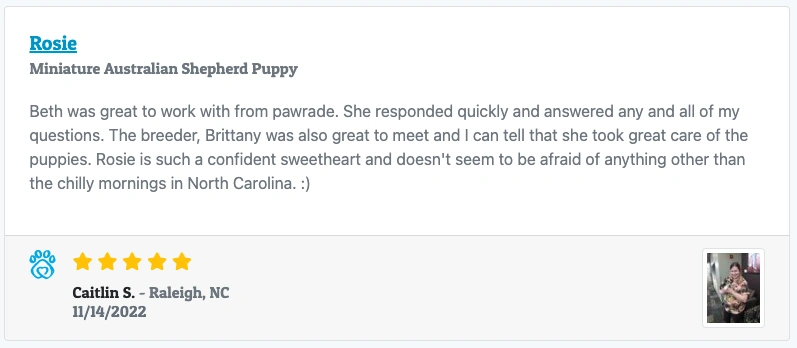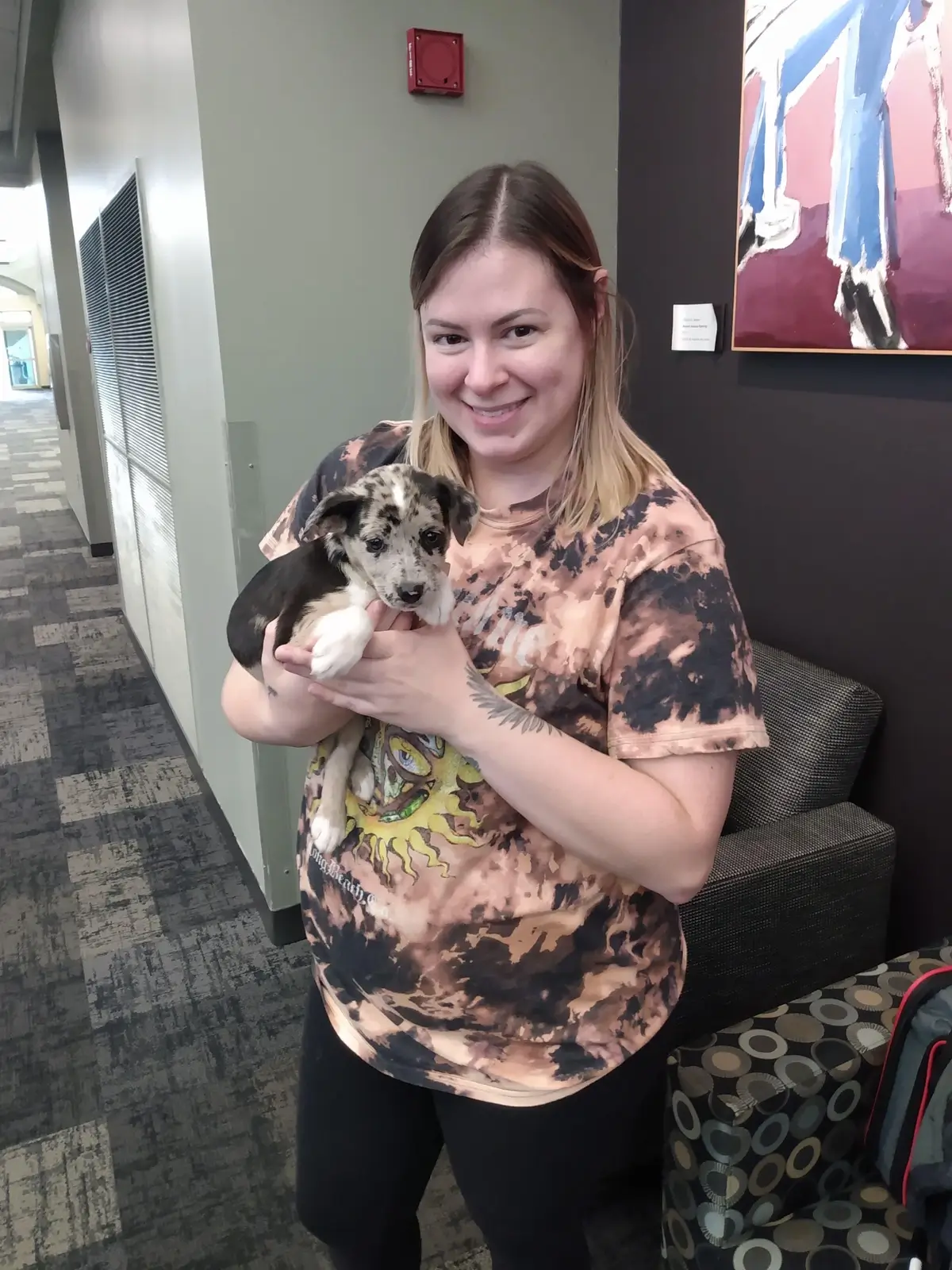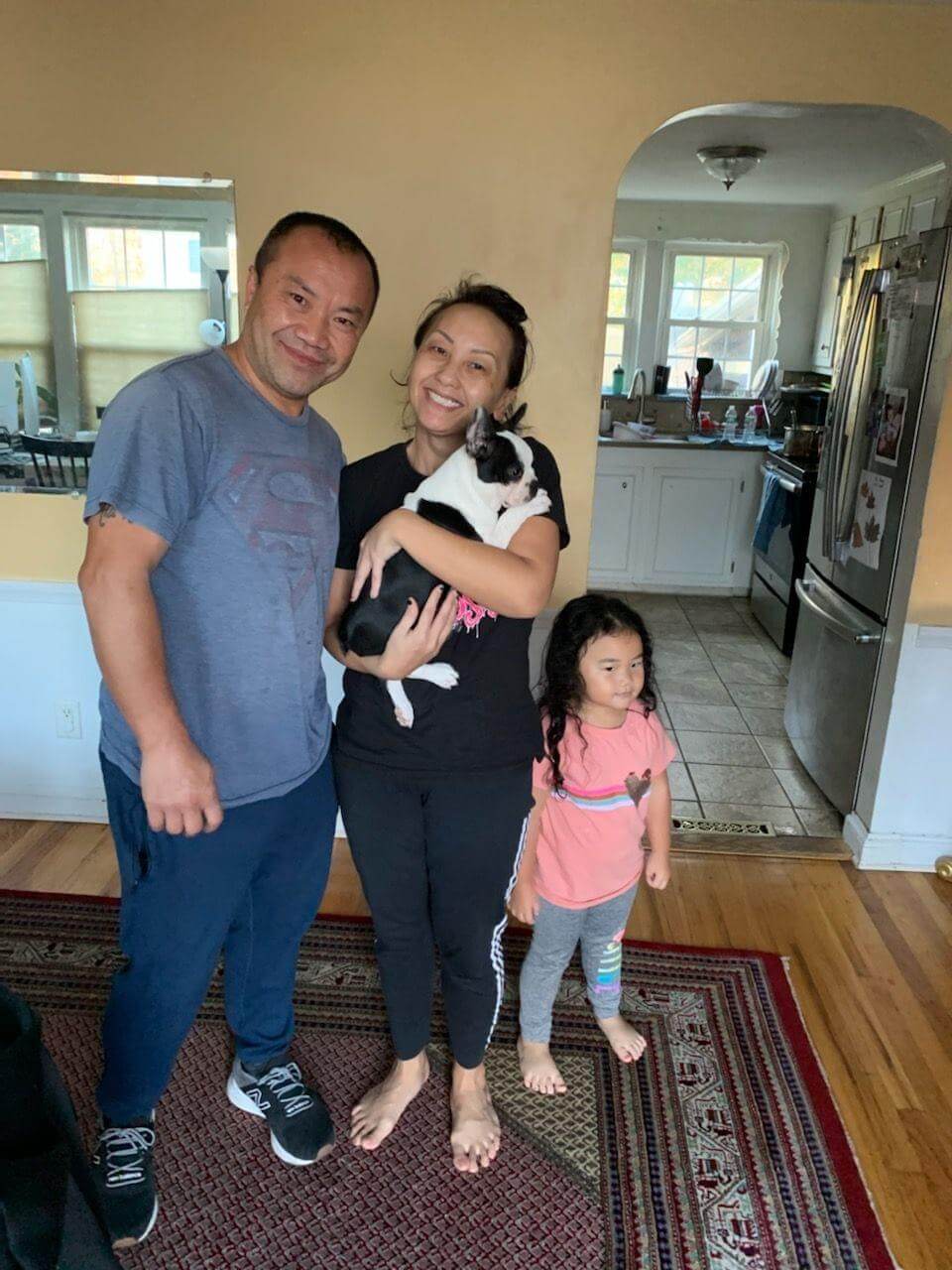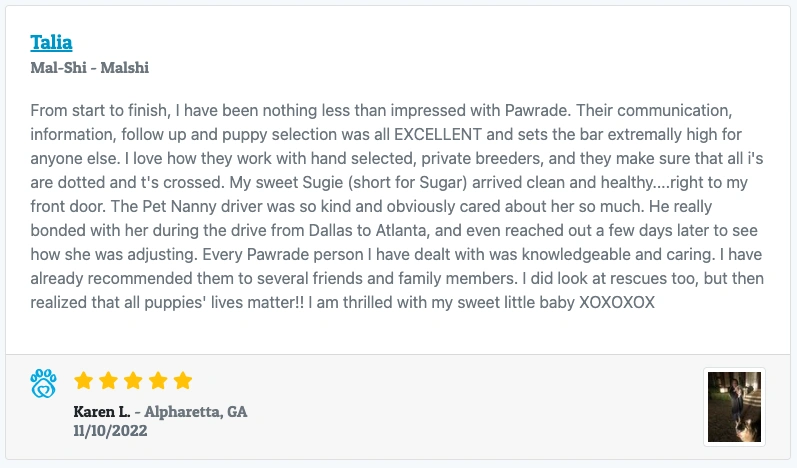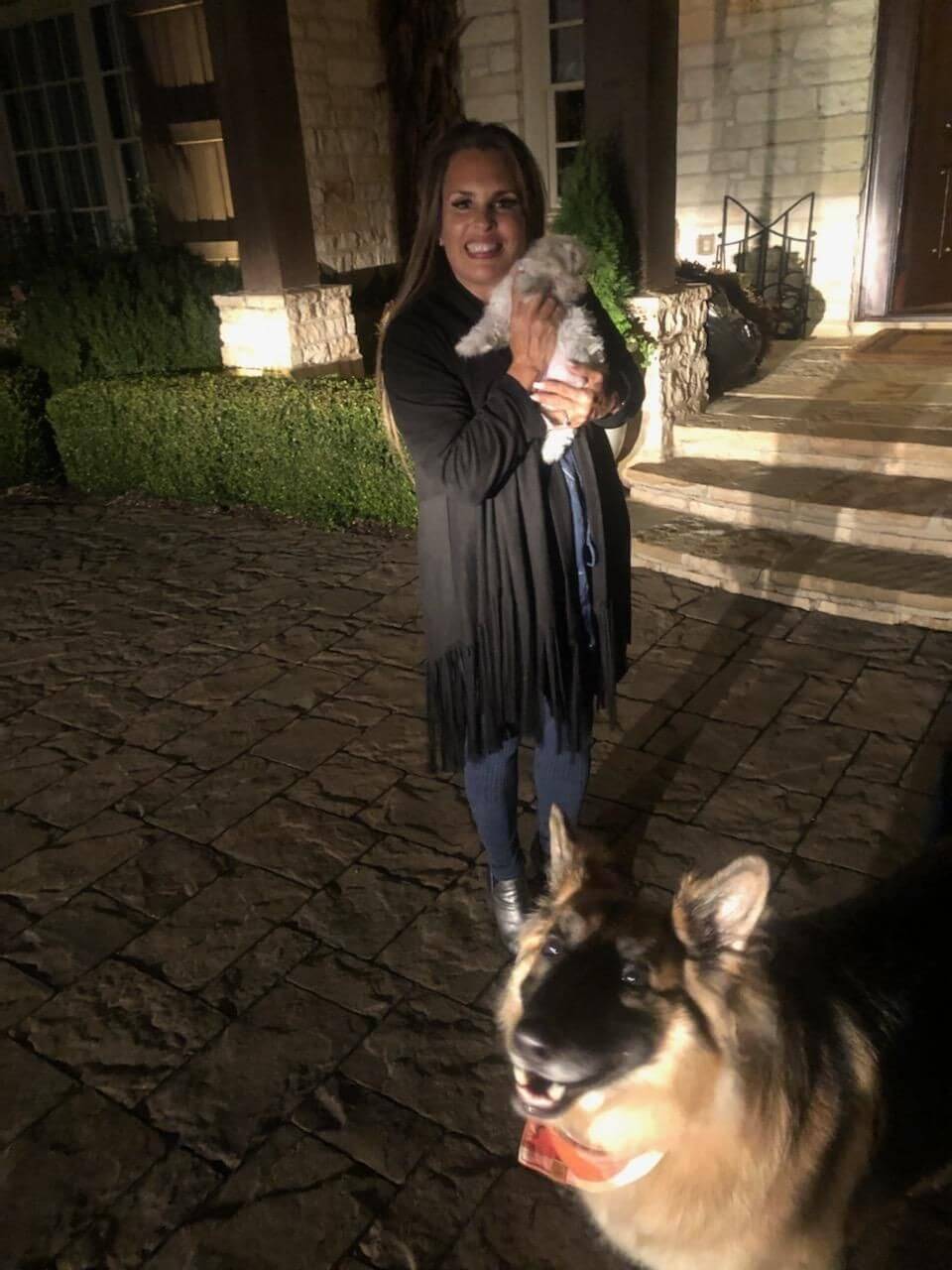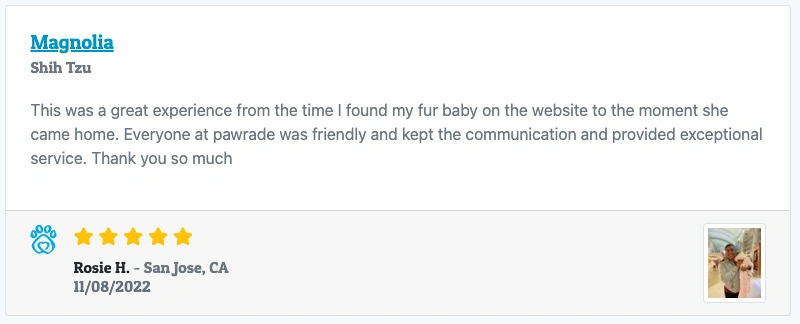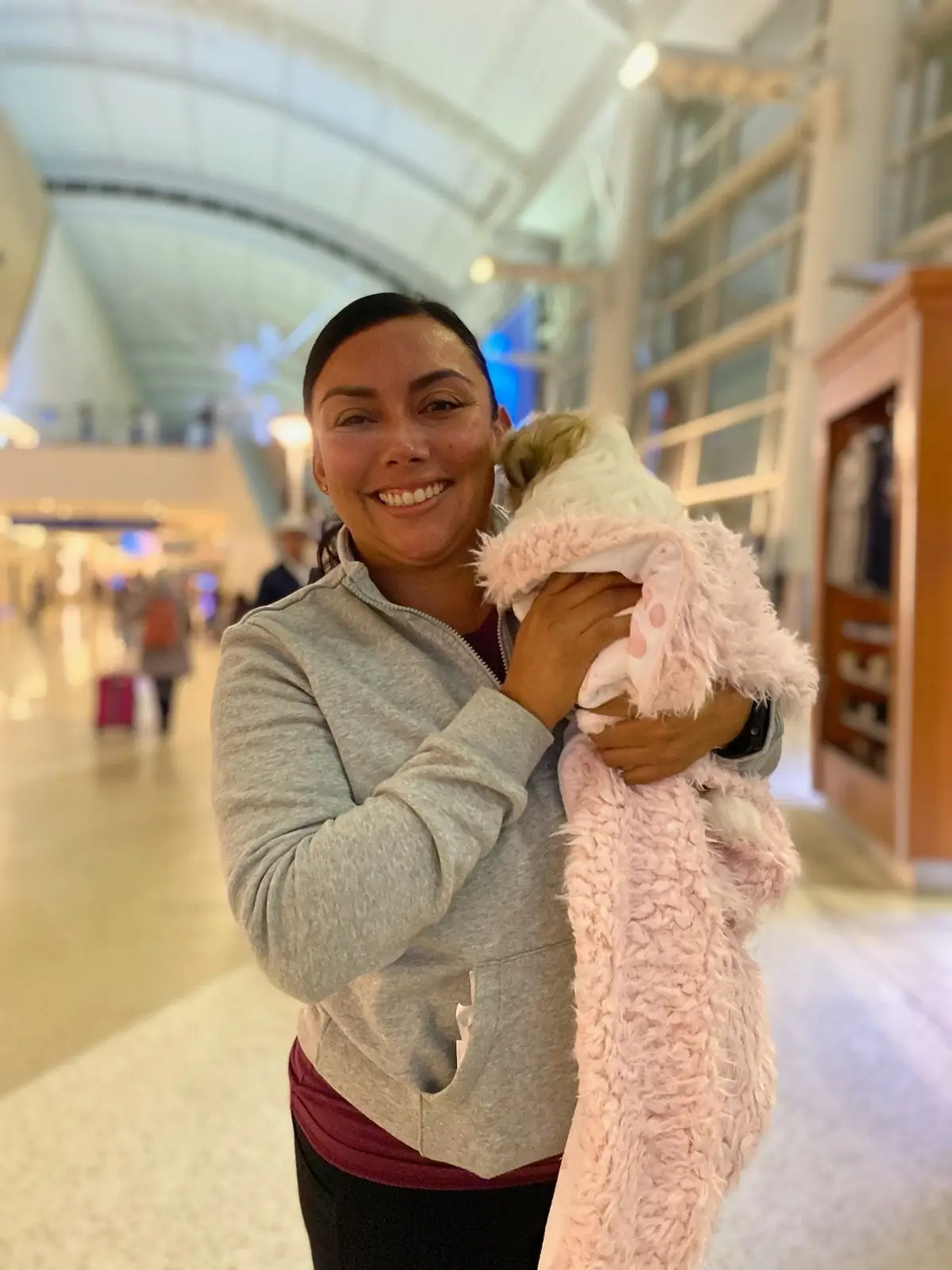 See Our Happy Customers in Our Pawrade Reviews
It makes our hearts so happy to say we've helped over 4,000,000 pawsome families provide loving, furever homes to puppies for sale since 2004. We'd love to have you as our 4,000,001st customer!