'Tis the season to add a puppy to your family! Holiday commercials and social media posts alike focus on the joy of puppy love. Who could get mad if Santa Claus found a way to leave some paws under your tree?
Of course, anything good in life takes effort. In many ways, rehoming a puppy is a lot like having a child. Your sense of self extends profoundly. Your daily life becomes more meaningful. There's a reason that people call their pet their "furbaby." And once they're snuggled in your cozy arms, you want to make the hustle and bustle of the holidays a smooth experience for your puppy's first Christmas.
You want to pick out the right puppy for you or to surprise your loved one for Christmas. You also want to keep your puppy safe during the holidays to keep Christmas a joyous time of year. If you are ready to become a new Dog Mom or a Dog Dad, here are some things to consider when getting a puppy ready for Christmas.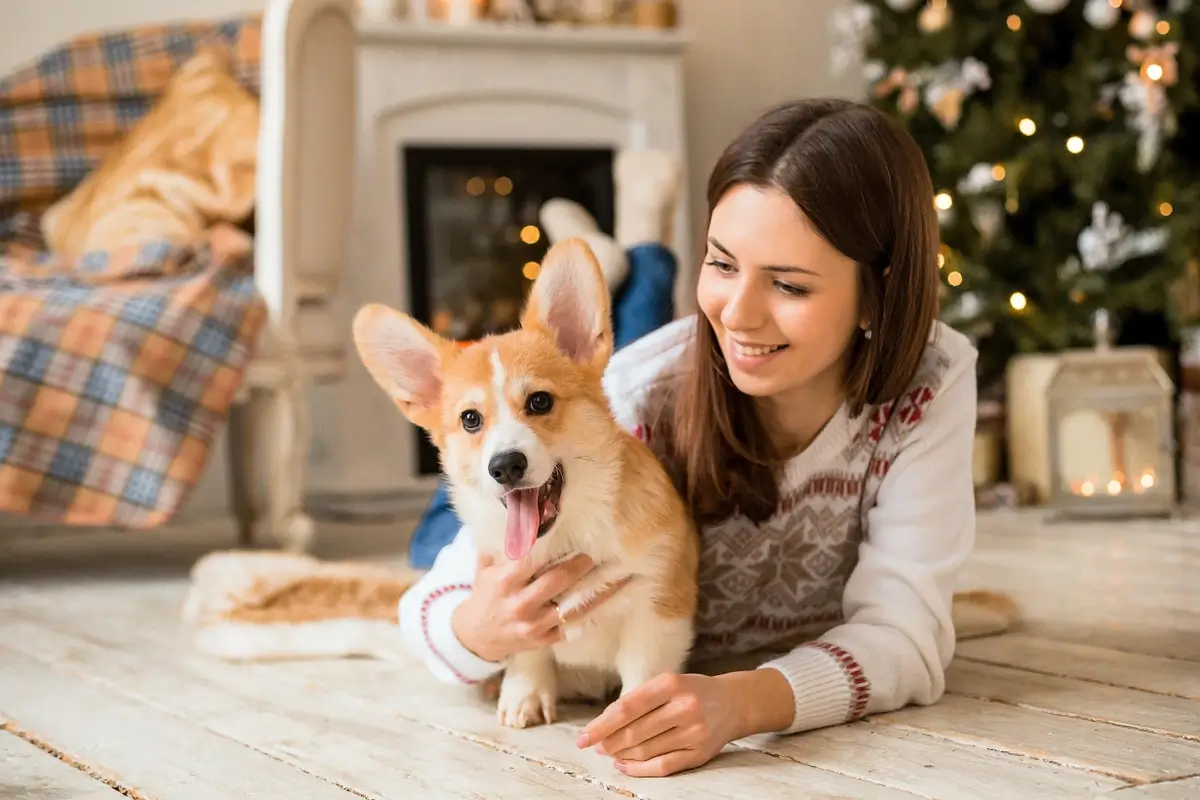 Picking Out Your Christmas Puppy
Researching so many different types of breeds can be overwhelming when choosing the right dog breed for you or the recipient. Specific breeds are known for certain behaviors, and it is extremely important that you are finding the right fit…for your sake and for your puppy's!
We've provided a series of questions to ask yourself to see if you're ready for a new puppy where you consider your living space, lifestyle, desired breed size, family members, activity level, and more. Here is an overview of dog breeds and types you may be looking into for your first Christmas puppy:

Working and Sporting Dogs: German Shepherds, Siberian Huskies, and Golden Retrievers are in a class of working and sporting dogs. They have a strong drive for exercise and task completion and make excellent dog hiking partners. Working dog breeds need consistent interaction with their owners or else they become too bored and look for mischief! These types of dogs thrive when given a job to do and often make great service animals.
Guard Dogs: Cane Corso Mastiffs, Saint Bernards, and Rottweilers make great guard dogs for families with kids. They are highly intelligent and aware of their surroundings. At noticeably larger sizes, they offer an alarming presence to strangers. Big dog breeds are better suited to live where they have lots of room to roam and reign. Rural areas are a great place to allow these breeds to thrive. Farmers love these breeds as they help scare off other animals like coyotes and birds of prey.
Small Companion Dogs: Boston Terriers, Chihuahuas, and Miniature Schnauzers are examples of smaller breeds with interesting histories. Anyone who has had one can tell you about their energy and loyalty, which are only 2 of many beloved traits. Cavapoos, Havanese, Cavalier King Charles Spaniels, Shih Tzus, and others have all been specifically bred as companions and lapdogs for ancient royalty. You can't go wrong with a dog who loves giving out puppy kisses! These breeds of dogs are generally great dogs for first-time puppy owners.
Hypoallergenic Dogs: The best hypoallergenic dog breeds are low-shedding and have very low sensitivity to allergies because they have hair, not fur. The popularity of hypoallergenic dog breeds has been on the rise and for good reason. Nobody wants to limit the amount of cuddling and interaction they can have with their puppy! It won't be fun to itch and sniffle when all you want to do is snuggle your furbaby. "Doodle" mixes are always a great place to start like Labradoodles, Mini Goldendoodles, and Bernedoodles, but there are also breeds like Yorkshire Terriers, Maltese, and Italian Greyhounds that make great family dogs.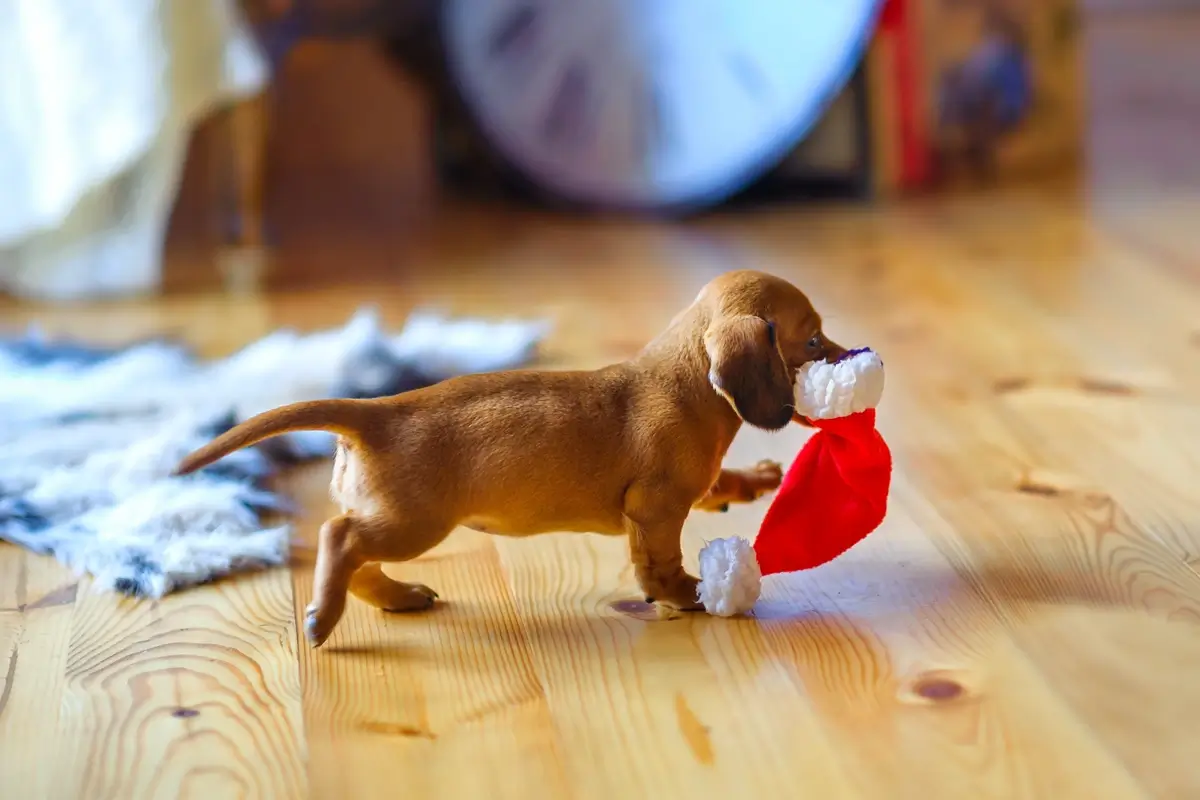 How to Prepare for Your Puppy's First Christmas
Now that you've picked out a puppy, the fun can begin! When you bring home a new puppy, you have to be prepared for holiday celebrations to look a little different – instead of Santa, your pup will be leaving chew toys under the tree. And instead of baby pictures on Santa's lap, you'll have an album full of puppy pics with Santa Paws.
Another huge difference in holiday celebrations this year will be puppy-proofing your home for the holidays, which requires an extra level of caution. Read on to see what areas you need to consider when having a puppy home for its first Christmas.
Deck the paws with boughs of Collies
Following puppy safety tips during the holidays is extremely important. You absolutely want to decorate with care in a safe manner for your pup while also retaining that magical holiday spirit. Check for loose cords and electrical hazards, Christmas lights, tinsel, fake snow, blow-up decorations, and more areas that could cause serious harm if your puppy is too curious.
Visions of sugar plums
Friends and family love a delicious spread of rich holiday foods and desserts! As tempting as it may be to sneak your four-legged friend some table scraps, you need to rethink if it's safe or not for your puppy. Know which holiday foods are safe or toxic for dogs before you go feeding your puppy pieces of Aunt Edna's fruitcake when she's not looking.
Set up a safe, quiet spot
Create a calm environment for your puppy away from boisterous activities and guests can help your puppy decompress if she's overstimulated or take a nap if she's off her routine. You can even keep a device nearby to play soothing music, drape a blanket over a crate, and create a snuggle nest away from the hustle and bustle.
Dachshund through the snow
Not all breeds are cut out for outdoor activities in harsh winter conditions. Make sure you have a cute winter puppy sweater to help regulate your puppy's temperature. Never, ever leave puppies out in the cold for long periods of time, even if they have a double hair coat!
I'll Be Home for Christmas
Planning is the key to ensuring your holiday plans go off without a hitch when a puppy is around! If you know you're having lots of company, do everything you can to tire out your puppy before guests arrive. Adjust your puppy's schedule so you don't get too much off track. You may need to rethink some traditions or decorations that are toxic to puppies, like keeping poinsettias and mistletoe away from puppies so they aren't tempted to ingest them with easy access.
Away in a Manger
Are you going to be traveling for the holidays? You'll need to find a fantastic dog sitter if you aren't able to bring your sweet puppy with you. Don't wait until the last minute though – start researching well before the holiday season so your options won't be booked up. If you're able to bring your puppy along, know what to do to prepare your puppy for a hotel stay and other travel tips.
O Come All Ye Faithful
Christmas is a time to join together with those you love. With guests come joyous moments, but it also may present opportunities for puppies to demonstrate their lack of manners. Greeting new guests is a fantastic way to work on puppy training and manners so they know what to expect when you have visitors.
Make Your Puppy's First Christmas a Special One With Pawrade
Wondering where to start with your puppy's first Christmas? What you need are some of Santa's elves to help! At Pawrade, we have plenty of "elves" ready to help match you with trusted breeders to make Christmas puppy magic come true. From purebreds to designer dogs to unique mixed breeds, Pawrade offers over 100 breeds to choose from. Browse our puppies for sale for a puppy that will light up your or a loved one's life this holiday season!